Janet Jackson Confirms She's Pregnant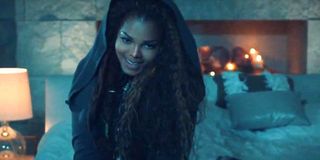 (Image credit: Janet Jackson "No Sleep")
After Janet Jackson postponed her world tour this year for unclear reasons, fans became worried about the legendary R&B singer's health. But it turns out, Jackson has some good news instead of bad: she's pregnant with her first child!
Janet Jackson confirmed to PEOPLE on Wednesday that she is expecting her first child with her husband Wissam Al Mana. The news comes several months after Jackson postponed the European leg of her Unbreakable World Tour in March, stating that she needed to "rest up, doctor's orders." Janet Jackson, who is 50, called the pregnancy a blessing to PEOPLE.
News of Janet Jackson's pregnancy has been circulating for a couple months now. Speculation began in April after Jackson released a video message to her followers stating that she postponed her tour so that she and her husband can focus on "planning [their] family." Jackson's brother Tito Jackson then confirmed the pregnancy rumors in June, but Jackson herself had yet to make the official announcement until Wednesday.
Though we don't know when Janet Jackson's first baby is due yet, it will likely be within the next few months. A concert promoter for Live Nation promised that Jackson will be resuming her postponed tour dates in 2017.
Janet Jackson and Qatari business magnate Wissam Al Mana tied the knot in a secret ceremony in 2012. Their wedding was so secret, that the media didn't even know about it until the couple was already a year into their marriage. And don't go thinking that Al Mana married Jackson for money --- he is an incredibly successful businessman with properties in just about every sector, and an estimated net work of one billion dollars.
This wasn't Janet Jackson's first time hiding a marriage from the public. The singer is known to be very private about her personal life, as evidenced by the fat that the news of her second marriage to director Rene Elizondo Jr. only came to public knowledge when the couple divorced in 2000 after nine whole years as husband and wife. Jackson's first marriage to childhood friend James DeBarge only lasted a year before they had it annulled in 1985. Jackson's most high-profile relationship came after her second marriage, when she dated record producer Jermaine Dupri for seven years. Dupri was the main producer on her 2005 album 20 Y.O., but the pair wound up splitting in 2009 shortly after the death of Janet's brother Michael Jackson.
Janet Jackson's baby will be the first Jackson to be born after the death of Michael Jackson. Mchael's three children Michael "Prince" Jackson Jr., Paris Jackson, and Prince "Blanket" Jackson were born in the late '90s and early '00s. Janet's other siblings Rebbie Jackson, Tito Jackson, and Jackie Jackson have all had children that went into the music business themselves. Only time will tell if Janet Jackson's son or daughter will follow in her family's musical footsteps.
Your Daily Blend of Entertainment News