The Situation With Michael Jackson's Mother May Be More Complicated Than We Thought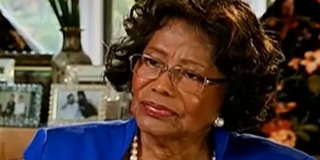 Last month, we reported that Michael Jackson's mother, 86-year-old Katherine Jackson, went to court to file official claims of elder abuse against her live-in caretaker, Trent Lamar Jackson (i.e. the cousin of Michael Jackson). Katherine claimed Trent inflicted years of psychological abuse that left her disoriented and terrified. These accusations prompted a Los Angeles judge to grant a restraining order for Katherine against her nephew, but this week, the plot thickened with developments that suggest the situation is not an open and shut case. Let's moonwalk over what we know so far.
DailyMail reported that the declaration Katherine Jackson filed included the claim that she could not appear in court because she was under doctor's care in London. The document also reportedly held the following damning statements against Trent Lamar Jackson:
But, this week, the game changed when Trent Lamar Jackson reportedly filed court papers in response to Katherine Jackson's claims. Trent's documents allegedly included accusations that Jermaine Jackson arranged, possibly even wrote, the paperwork that helped Katherine Jackson get a restraining order last month. Also, Trent reportedly claimed Jermaine Jackson was behind Katherine's fleeing to London because Jermaine had nefarious plans to take over Katherine's control of the estate and fortune of the late Michael Jackson, who died under questionable circumstances in 2009 at the age of 50.
Today, TMZ reported that Katherine Jackson made her feelings crystal clear by backing up her initial claims against Trent Lamar Jackson and saying her nephew has been bullying her and stealing. (Supposedly, he took $40,000 from her and duped her into purchasing a Cadillac for him.) The gossip site was careful to say that the person behind Katherine's rebuttal could be "someone claiming to be Katherine Jackson," because, you know, what if Trent is telling the truth?
The declaration allegedly says Katherine Jackson does not wish to return home because she's filled with anxiety over fears that, should she return, Trent could exact revenge on her. Her worries reportedly were so strong that she began taking medication to deal with the stress, and she had a meeting with Adult Protective Services employees, who can back up her words.
Holy moly! The claims from both sides of this story sound horrible for everyone involved. But remember, there are always three sides to every story---the third side being the truth. So, what do you think is happening in this layer of the Jackson family saga?
Your Daily Blend of Entertainment News
Your Daily Blend of Entertainment News
Thank you for signing up to CinemaBlend. You will receive a verification email shortly.
There was a problem. Please refresh the page and try again.