Why Nancy Kerrigan Developed An Eating Disorder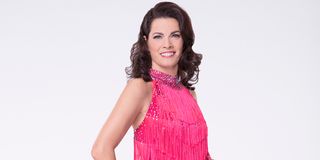 Former Olympic figure skater Nancy Kerrigan is shining on this season of Dancing with the Stars, but between practicing and performing the difficult dance routines, she is starting a social dialogue about the epidemic of eating disorders among athletes. Kerrigan decided to raise awareness of the issue with a new documentary, Why Don't You Lose 5 Pounds?, which she executive produced. In an interview to promote the film, the Olympic medalist opened up about her personal experience with an eating disorder. She explained why the disorder developed, noting it occurred in the aftermath of the infamous 1994 attack on her person. Here is what she said about the eating disorder that emerged as a coping mechanism to deal with that media firestorm:
In the interview with People, Nancy Kerrigan talked about the prevalence of eating disorders in sports, which can be brought on by various factors related to the body-focused job requirements of an athlete. However, Kerrigan indicated that her eating disorder developed as a direct result of the media firestorm surrounding the 1994 assault on her. Before that incident, she did not seem to have a complex regarding food. In fact, Kerrigan loved eating meals at the Olympic Village cafeteria in Albertville, France, during the 1992 Winter Olympics because mealtime represented a chance for her to mingle with her peers. That entire experience was made extra sweet for Kerrigan when she won the bronze medal.
Sadly, Kerrigan took an emotional nosedive in January 1994 after she became the target of a physical assault when an assailant clubbed her leg when she was exiting an ice rink in Detroit. The incident was part of a dark plot to oust her and elevate the chances for her teammate, Tonya Harding, on the road toward the 1994 Winter Olympics in Lillehammer, Norway. The story dominated headlines for a long time and has followed Nancy Kerrigan around ever since.
Kerrigan's knee healed, but it took a long time to fix the emotional damage. She competed at the 1994 Winter Olympics a month later and won the silver medal. Nevertheless, she still felt gripped by a new eating disorder that manifested itself as a coping mechanism to deal with the deep fear and profound stress her extraordinary circumstances caused her. It would have made complete sense simply based on the heightened expectations people had for her as an Olympic athlete, but the confluence of other factors--the assault and betrayal, the invasive media and its scrutiny--all added up to extreme pain. It is no wonder she wanted to regain a sense of control.
Nancy Kerrigan admitted she felt isolated during those days. She relied on support from her manager, Jerry Solomon, who would plead with her to eat a couple more bites of food at each meal. From the sounds of it, Solomon's support was crucial to Kerrigan when she needed it most. Her relationship with food did improve with time, and now she's a mom of three and a competitor on Dancing with the Stars. She's doing exceedingly well in the competition, and you'd never be able to tell from her lighthearted appearances on the ABC series that she struggled in the past with body image and weight issues spawning from severe stress.
It is common for people to try to gain a sense of control in the wake of a traumatic experience. Nancy Kerrigan is certainly a role model for anyone trying to overcome an external struggle, but seeing how she overcame her internalized pain is, perhaps, even more incredible. Kerrigan has certainly come a long way, and it is wonderful that she is using her platform to help society move in a healthy direction.
Your Daily Blend of Entertainment News
Your Daily Blend of Entertainment News
Thank you for signing up to CinemaBlend. You will receive a verification email shortly.
There was a problem. Please refresh the page and try again.