Vogue Kicking Anorexic Models Out Of Its Magazines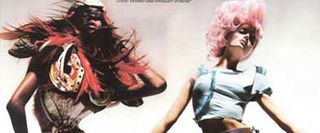 Today is an epic day for modeling, one that will tip the favor for some and will be a nuisance for others. Vogue, that fashionable, multi-continent style magazine came together on Thursday to begin using healthier models in its spreads. So, while the magazines will likely still feature some unattainably skinny minis, none will be in the eating disorder range.
The fashion industry has been criticized for years for using skinny models, which can then project bad body images on young teens and self-conscious girls. However, the onus has largely been placed on runway models and designer shows, not the purveyors of fashion on glossy pages. The coalition of Vogue magazines made a very big statement when they decided to use healthier models and Conde Nast International Chairman Jonathan Newhouse says it is because of the image Vogue wants to present to fans around the world.
The basic agreement between the various Vogue magazines speaks specifically about banning those models who are known or who look as if they have eating disorders. According to the Charleston Daily Mail, the agreement also touches on another hot button issue: age. The magazines will also no longer carry models who are under the age of 16 and will even go so far as to check ids to ascertain they are adhering to standards. While changing standards is certainly heading in the right direction, there is still a ways to go before fashion totally understands how to truly design and present to sell. Even forgetting weight, at the end of the day, clothes might look nicer on taller women, but the average woman is still 5'4'. '
Your Daily Blend of Entertainment News