Patton Oswalt Reflects On Wife's Passing One Year Later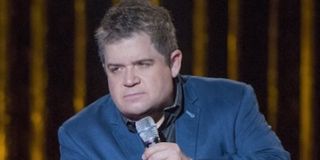 It came as a shock when crime-novel writer Michelle McNamara, the wife of actor Patton Oswalt, died in her sleep last year at the age of 46. Now Oswalt has written a lovely tribute to his late wife, and his words, although heartbreaking, reveal a resilient father who is coping with an earth-shattering tragedy as best he can. The 48-year-old actor took to social media to share the message with his followers and let them know how he felt a year later, saying,
Many know Patton Oswalt as a stand-up comedian or an actor on shows such as The King of Queens, but he departed from his funny side to post the serious, touching reflection on Facebook. His words serve as a gentle reminder that life goes on, which is encouraging for others in similar situations or those struggling with grief. Read more of the tribute here and continue below for details:
From the sounds of it, Patton Oswalt struggled at first, but now he is managing to maneuver through life as a widower because he is trying to focus on being a great dad. He indicated that he would not treat the day of Michelle McNamara's passing as a dark ritual or painful memorial. He and his daughter, Alice Oswalt, will not partake in gravesite visits unless they have something compelling to say, and they will not have a candle lighting or a balloon launch. Instead, Oswalt plans to spend each moment keeping his daughter happy in the present moment with games, ice cream, and other things young kids enjoy. Also, it appears Oswalt is receiving support from others who have lost a spouse or partner.
Oswalt's late wife Michelle McNamara passed away from heart failure caused by a combination of prescription drugs---specifically Adderall, Xanax, and Fentanyl---along with an undiagnosed heart condition.
In previous interviews, Oswalt described the heartbreaking morning of McNamara's death. McNamara was busy working on a new crime novel, and was having trouble sleeping, so she took her prescribed medications to help her get some rest. Oswalt let her sleep in that day and saw their daughter off to school. He even brought a coffee home for his wife and left it on her bedside table around 9:40 a.m., a memory he mentions in the beautiful and touching social media post.
Our hearts are breaking from this tragic story, but Patton Oswalt's beautiful words show his true resilience. Plus, they suggest that he is reaching out for support from others who have had similar experiences, and that is such an important thing to do. We will keep the Oswalt and McNamara family in our thoughts.
Your Daily Blend of Entertainment News