21 Celebrities Show Off Their 'I Voted' Stickers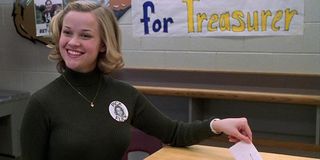 As the nation makes its voice heard this Election Day, so are some very famous faces. Take a look at all the stars who proudly flaunted their civic duty.
Olivia Wilde and Jason Sudeikis
Proud parents Olivia Wilde and Jason Sudeikis brought the nearly one month old daughter Daisy along to witness the democratic process firsthand.
Kate Hudson
Kate Hudson kept her post short and sweet, simply holding up her sticker and writing, "I voted."
Miley Cyrus
Miley Cyrus was beaming from ear to ear when she proudly showed off her "I Voted" sticker.
Anna Kendrick
Anna Kendrick matched her sticker with a patriotic "American Woman" top.
Joe Jonas
Joe Jonas kept his message simple, telling his followers to go vote.
Chris Evans
It wouldn't be a true political event unless we heard from Captain America himself, right? Chris Evans kept himself out of his sticker photo.
Neil Patrick Harris
Neil Patrick Harris paired his sticker with some wise words from Martin Luther King Jr.
Anne Hathaway
Anne Hathaway helped share information on polling locations along with her patriotic pic.
Jenna Fischer
Though Jenna Fischer wasn't in America to vote on Tuesday, she shared a pic with her "I Voted" sticker from voting early last week.
Seth Meyers
Olivia Wilde and Jason Sudeikis weren't the only family with a newborn to vote together. Seth Meyers was joined by his wife and their eight-month-old son to cast their votes.
Lena Dunham and Jack Antonoff
The couple that votes together, stays together. Lena Dunham and Jack Antonoff shared a happy couple selfie with their stickers.
Nick Jonas
Joe wasn't the only JoBro to hit the polls on Election Day. Nick Jonas said he'd just hopped a plane to make sure to cast his vote.
Patton Oswalt
Comedian Patton Oswalt twinned with his daughter Alice by putting his sticker on his forehead in an adorable father-daughter selfie.
Gina Rodriquez
The Jane the Virgin star encouraged her fans to make their voices heard in with their ballots.
Pete Davidson
Saturday Night Live's Pete Davidson shared his first time ever voting with his fans.
Jessica Biel
Jessica Biel loved her sticker so much she did a whole photoshoot with it, and also found some time to poke fun at her husband Justin Timberlake's recent photo faux pas.
Mae Whitman
Mae Whitman had some fun with her Arrested Development past while showing off her "I Voted" sticker.
Drew Barrymore
Drew Barrymore shared how important voting is to her while showing off her sticker.
Melissa McCarthy
Funnywoman Melissa McCarthy shared her voting excitement with a close-up selfie.
Eva Longoria
Eva Longoria took advantage of voting early last week and posed with her sticker and mail-in ballot.
Connie Britton
From Nashville to D.C. Connie Britton shared her glee after casting her vote in a selfie with her friend.
BONUS: Taylor Swift
Many people have pointed out Taylor Swift's relative silence during the election process, but she saved her first political post for Election Day. Though she's not rocking an "I Voted" sticker, Swift is shown posing in a line to cast her vote.
Your Daily Blend of Entertainment News
Thank you for signing up to CinemaBlend. You will receive a verification email shortly.
There was a problem. Please refresh the page and try again.