Why Emma Watson Is So Private, According To Emma Watson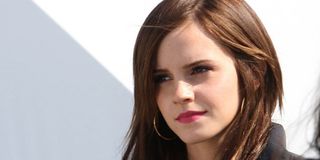 There is a big difference between Emma Watson and many Hollywood celebrities. Yes, the 27-year-old performer is different from some stars because she claimed her stake in Hollywood as a child but insisted on earning a formal university education to become an actor's actor. Similarly, Watson's recent outing, Beauty and the Beast, crossed the $1 billion mark in sales, which again set her apart from her contemporaries. But the biggest difference of all is Watson's approach to her privacy. Over the years, Watson has managed to keep most of her personal life personal. Now the "Belle" of the ball is explaining--through a lens of keen awareness--why she keeps her life as private as she does. Check out what Watson had to say about the Harry Potter series, how it thrust her into the spotlight, and how she views privacy as advantageous to her career today:
The revelation comes from a talk between Emma Watson and Jessica Chastain. Through the talk in Interview Magazine, we get a glimpse at a young star who appears to know she is box-office gold but wants to keep mindful of the greatest role she'll ever play: herself.
Some of the choices Watson made after her turn as Hermione Granger seemed to underscore her desire for boundaries between her private and public personas. She took time off from work to attend Brown University, and she took movie roles that were a departure from her fantasy film days. In these ways, the road to Watson's grownup success looked much like the mysterious yet eventually rewarding path that led Belle's father to the castle in Beauty and the Beast.
At the same time, Emma Watson's unique career choices, including her latest film The Circle, have increased the amount of public interest in her life. Therein lies the puzzle. Emma Watson is a movie star who puts a premium on privacy. Her movies gross billions of dollars, but at the same time, she avoids taking selfies with fans because she treasures her personal space so much.
Emma Watson did not rehash the legal action she had to take when hackers reportedly stole her photos and threatened to make them public, and she did not discuss the fact that her choices sometimes become hot-button issues. However, one can guess that terrifying and frustrating moments like those certainly add to Watson's wish to protect her personal world.
It seems like Emma Watson is conscious of the fact that she has a platform to influence society and its dialogues. Moreover, she appears to know the value of having a low-key profile in Hollywood. Sure, it can be lucrative for a star to show off every facet of his or her life, but as the audience, a little mystery never hurts. So, it sounds like Watson has the right idea.
Your Daily Blend of Entertainment News
Thank you for signing up to CinemaBlend. You will receive a verification email shortly.
There was a problem. Please refresh the page and try again.