9 Actresses DC Should Get To Play Poison Ivy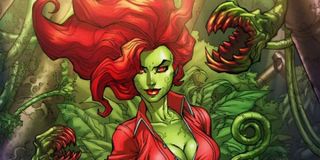 It's a brave new world for comic book movies, as studios are showing an increased willingness to take risks and try new things with the genre. In the realm of DC movies, few upcoming projects epitomize that idea more than David Ayer's Gotham City Sirens. In the process of taking the spotlight off of the Caped Crusader, the upcoming film will show the titular urban hellhole in a brand new light by focusing on the conflict between the villainous Sirens and the heroic Birds of Prey team.
That said, as excited as we are for Gotham City Sirens, we still know very little about who will take part in the film. One of the most important and fundamental characters in the entire story is Pamela "Poison Ivy" Isley, but no casting reports have been confirmed yet with regards to who will take on the role. To better make sense of this beloved character, we have compiled a list of nine actresses that we think are perfect choices that DC needs to consider. We have quite a few unique options to consider, so we're going to kick this off with an actress who has already shown an interest in joining the DCEU as Poison Ivy.
Jessica Chastain
Kicking off this list is none other than Jessica Chastain -- an actress who seems to have made a genuine and concerted effort to avoid pigeonholing herself in any particular genre as an actress ever since she entered the limelight. Between her work on films like Zero Dark Thirty and Crimson Peak, she has established her ability to convey strength and menace with ease, but her performances in The Help and The Huntsman: Winter's War have also confirmed her knack for sympathetic heroism and charm. Ms. Chastain has already said to CinemaBlend that she is very interested in portraying Poison Ivy at some point in the near future, so this casting decision seems like a complete no-brainer for the folks at DC.
Christina Hendricks
Christina Hendricks' most iconic role to date came during her tenure as Joan Holloway on AMC's Mad Men from 2007 to 2015, and that character could arguably be considered a perfect practice run for portraying Pamela Isley in the DCEU. Known for portraying smart and strong women who know how to use their sexuality to their advantage (as well as her distinctive, curvaceous figure), Hendricks not only looks the part to portray Poison Ivy, she also seems tailor made for the role itself in her ability to match seductiveness with darkness. Beyond that, at 41 she's the perfect age to portray a version of Ivy with a long history in Gotham City facing off against Ben Affleck's Batman.
Kate Mara
The fact that Kate Mara was cast as Sue Storm in Josh Trank's ill-fated Fantastic Four reboot from 2015 was nothing less than a wasted opportunity to use this immensely talented actress in a comic book movie universe. Ms. Mara deserves better, and with Poison Ivy set to join the DCEU, there's no better time for her to get another shot at the world of superhero movies than right now. Aside from her resemblance to Ivy, Mara has proven that she has an established (albeit criminally underused) knack for acting in action films, and her recent turns in projects like Morgan and House of Cards confirmed that she could brood in a way that would make any Poison Ivy fan incredibly happy.
Alexandra Breckinridge
Not only does Alexandra Breckinridge already have experience working within an established comic book universe due to her performance as Jessie Anderson on AMC's The Walking Dead, but she also has ample experience portraying a strong female character with many similar traits to Poison Ivy: American Horror Story's Moira O'Hara. Depicting the younger version of Ms. O'Hara's ghost, Breckinridge nailed the characterization of a woman who knows how to use her physical attractiveness to lure men in, while also maintaining a deep-seated distrust of the men she seduces. Qualities like that are core facets of who Poison Ivy is as a villain, and this small screen experience could easily translate to the DCEU.
Deepika Padukone
She may not look like a traditional depiction of Ivy but keep an open mind. Deepika Padukone isn't the most well-known face among Western movie audiences (yet), but the Bollywood actress has gradually started to make an impression in America. In fact, she made her Hollywood debut in early 2017 with her portrayal of Serena Unger in xXx: The Return of Xander Cage. Although the third installment in the xXx franchise left quite a bit to be desired, Padukone's performance in the movie easily stood out as one of the highlights of the entire affair. Her ability to portray a femme fatale with incredible ease is now firmly established, and it could easily lend itself to a scene-stealing performance as Poison Ivy in Gotham City Sirens.
Madelaine Petsch
Although Madelaine Petsch is the youngest entry on this list by a substantial margin, the Riverdale star has already proven that she has what it takes to make the jump to a major franchise with her now signature role as Cheryl Blossom. Week in and week out, Petsch portrays Cheryl Blossom with a distinctive menace that makes her seem dangerous and terrifying while simultaneously conveying a tragic sense of sympathy and charm. Throw in the ability to control plant life, and those unique qualities as an actress could serve her well in the DCEU. Perhaps most importantly, she is one of the few women on this list with experience playing a comic book character, thus giving her an advantage when it comes to adaptation.
Penelope Cruz
As the oldest entry on this list, one could easily argue that Penelope Cruz is the actress on this list who is the most ideally suited to portray Poison Ivy in a version of Gotham City where Batman and his rogues have existed for decades. More importantly, she is an Academy Award nominated actress (with one win to her name), she has regularly maintained a presence as one of the most beautiful and beloved actresses in Hollywood, and she is even known for her charitable conservation work outside of her acting resume. After combining all of those qualities together, one thing becomes clear: Penelope Cruz could easily make Ivy one of the most engaging villains in the DC Extended Universe.
Natalie Dormer
Like several other actresses on this list, Natalie Dormer has appeared in a comic book movie before -- she had very memorable a scene alongside Chris Evans in Captain America: The First Avenger. However, she was sadly underused as little more than a quick cameo to squeeze some extra laughs out of the film. If you ask us, Margaery Tyrell deserves better than that. Between her work on projects like Game of Thrones and The Hunger Games films, Dormer clearly has no trouble venturing into the world of effects-driven fantasy and sci-fi. That, coupled with her ability to convey strength and beauty in equal measure, would make her a perfect counterpoint to Margot Robbie's Harley Quinn during the events of Gotham City Sirens.
Bryce Dallas Howard
Bryce Dallas Howard has flirted with blockbuster franchises over the years with credits in films like Jurassic World, Terminator: Salvation, Spider-Man 3, and the Twilight movies, but she has yet to come across a blockbuster role where she has had the opportunity to stand out. She has waited patiently for her moment, and Poison Ivy seems like a part that could easily allow this natural redhead to shine. Like Jessica Chastain, Bryce Dallas Howard recently admitted on Twitter that she wants the role of the iconic comic book villainess. If she does get the part, let's just hope that the folks behind this film won't have her sprinting in high heels again; that would not be a great look for Pamela Isley.
What do you think? Is there an actress that you think would make a perfect Poison Ivy? Give us your thoughts in the comments section below!
Your Daily Blend of Entertainment News
Originally from Connecticut, Conner grew up in San Diego and graduated from Chapman University in 2014. He now lives in Los Angeles working in and around the entertainment industry and can mostly be found binging horror movies and chugging coffee.