Emma Watson Is Taking Legal Action Over Stolen Private Photos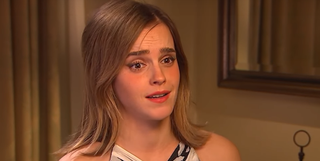 It's an important week for Emma Watson, also known as Belle in Disney's live-action version of Beauty and the Beast, which gets its major worldwide release this weekend. Judging by the records broken by the film ahead of its big opening, experts think the box office numbers should be remarkable.
But before Emma Watson ballroom dances her way into our hearts, some garbage people from the dark web want to spoil the fun. According to the BBC, people accessed Watson's private information and stole photos of her. The images allegedly circulated the dark web, the underbelly of the Internet not indexed by search engines.
Emma Watson puts a high value on her privacy. She even admits that she avoids taking selfies with fans to help her manage the private aspects of her life. After all, she grew up before our eyes as Hermione Granger in the Harry Potter films. So, her publicist swooped in with a statement to the BBC immediately following the robbery of the photos.
Earlier this month, Vanity Fair ran a cover photo of Emma Watson that caused a social media uproar. Critics considered the cover photo too revealing. Some took it upon themselves to declare that Watson, who is UN Ambassador for Women, could not be a feminist.
Never mind the conversation brought to light in the article. Never mind its questioning of fan responses to Emma Watson's activism---or superhero Gloria Steinem's rebuttal about the inherent gender bias in such a line of questioning. Watson still had to address the controversy about the cover photo while speaking with Reuters.
Presumably, the people who stole the photos of Emma Watson trying on clothes thought they could exploit her because of the issues swirling around at the moment. But sorry, fellas. It's not her first time at the rodeo.
The BBC says Emma Watson underwent a similar ordeal in 2014. After Watson had given a speech on gender equality, extortionists threatened to expose nude images of her, but the situation turned out to be a hoax. Watson explained her thoughts surrounding that incident at a 2015 Facebook event.
In 2014, Emma Watson also tweeted about the string of leaked photos of celebrities from Kirsten Dunst to Ariana Grande to Jennifer Lawrence.
The BBC also reported that the US hacker behind those 2014 security attacks on celebrities received nine months in prison this year. What a novel idea. If you steal someone's private photos and use them to extort the person, you could face jail time.
Your Daily Blend of Entertainment News