Modern Family's Ariel Winter Just Went Off On The Critics Who Hated Her Barely There Outfit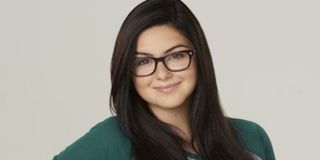 The stars of Modern Family recently attended a screening of the show with a panel discussion and a cocktail reception. Sound fancy? Ariel Winter seemed to think so. But did she miss the memo that attire for the event would be semi-casual? Winter's castmates arrived in clothing including jeans and khakis with button-down shirts. Meanwhile, Winter wore an alluring, high-hemmed dress that looked like a Beyoncé stage costume mixed with Lucy Lawless's uniform from Xena: Warrior Princess. Some observers said she appeared out of place among her casually dressed colleagues. In response, Winter issued a statement to tell critics to lay off. Check out what the 19-year-old actress said:
Ariel Winter posted her feelings to her Instagram account, which includes many other pictures of the young star's exciting life (and fashion choices). If Winter's social media is any indication, she is comfortable showing off some skin. She often posts images of herself in dazzling, sometimes-seductive outfits that her brainy Modern Family character, Alex Dunphy, would never consider. Her style choices land somewhere between Lana Del Rey and Kim Kardashian--or maybe between Rachel Evan Wood and Kylie Jenner.
The difference between most of Ariel Winter's wardrobe choices and this one is the location. For example, there are several images of her in a long pink wig and a skin-baring top for Coachella. There are even photos of her at other events with her Modern Family co-stars where everyone is wearing glamorous gowns and tuxedos. Winter clearly knows how to turn up the volume at the right time. Perhaps someone should have made some calls to see what everybody else was planning to wear.
Then again, Ariel Winter has attended many similar events for Modern Family. After all, the show has been on for nearly a decade. Perhaps this dress is yet another step toward the introduction of "grown-up Ariel." Check out the photo of the stars at the event here:
I personally love messages that encourage people to be confident, so Ariel Winter's response to the haters is excellent. There is no denying she looked great. At the same time, she did stick out from her Modern Family family. Why don't you be the judge?
This poll is no longer available.
Your Daily Blend of Entertainment News
Your Daily Blend of Entertainment News
Thank you for signing up to CinemaBlend. You will receive a verification email shortly.
There was a problem. Please refresh the page and try again.