Modern Family's Rico Rodriguez Shared A Heartbreaking Tribute To His Father, Who Died Recently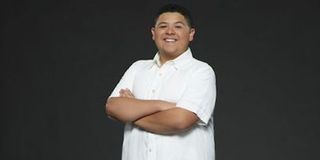 We have some heartbreaking news to report to all of our fans of ABC's Emmy-winning sitcom Modern Family. The real-life father of actor Rico Rodriguez, who plays teenager Manny Delgado on Modern Family, has passed away at the age of 52. On Sunday, 18-year-old Rico Rodriguez shared a tribute photo of himself enjoying milkshakes with his late father. You can see the touching image, below.
In the caption for the Instagram photo, Rico Rodriguez expresses the storm of emotions he is encountering at the moment. In the accompanying statement, the young actor admits it has been a challenging time in his life and recalls some of the best qualities his father possessed. Rodriguez even compares his late father to a superhero, noting he had the ability to bring out the best in people.
The group of actors working on Modern Family have assumedly grown close like a family through the eight seasons the show has been on the air. After Rico Rodriguez posted his announcement, he received supportive responses from some of his onscreen family. Actress Sofia Vergara, who plays Rodriguez's TV mom, Gloria Delgado-Pritchett, reached out to him by retweeting his social media announcement. Vergara also included a brief but loving message for her sitcom son.
Another tender message of love came from Modern Family actress Julie Bowen, who plays Claire Dunphy (née Pritchett). On the show, Claire and Manny technically are step-siblings despite a generation gap. Bowen also posted touching words to say that the cast of Modern Family may seem like a cheap substitute for Rodriguez's real family, but they will always do their best to be a second family for him.
The circumstances of Roy Rodriguez's passing remain a private matter. However, the obituary from The Eagle did share that he is survived by a large family--his wife, five brothers and sisters, and four children, including Rico Rodriguez and actress Raini Rodriguez. All of us here at CinemaBlend send our sincerest condolences to the Rodriguez family during this tough time.
Your Daily Blend of Entertainment News