Richard Simmons Just Reappeared In Society To Sue National Enquirer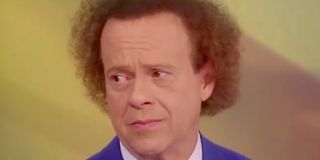 People were shocked in April when Richard Simmons emerged from his private compound for the first time in years to seek hospital treatment for severe indigestion. Now the 68-year-old fitness guru is reentering the public eye again, but only to combat The National Enquirer, which published a cover article making allegations Simmons underwent gender reassignment surgery, a claim Simmons has refuted. As an outspoken advocate for LGBTQ causes, Simmons was thoughtful about how he approached the subject. A statement from his attorney read:
Richard Simmons's attorney, Neville Johnson, asserted Simmons has the right "to be treated with decency and dignity," so says The Hollywood Reporter. Simmons's suit against The National Enquire, Radar Online, and American Media, Inc. (AMI) refers to the publication of a cover article charging Simmons transitioned genders. The article utilized a photo of Simmons in a long wig and women's clothes. However, Simmons's defense says the picture is merely proof of the Sweatin' to the Oldies entrepreneur's "well-known and longstanding burlesque-style entertainment persona." Moreover, Johnson says the picture comes from 2013, before his client even went into seclusion.
It sounds like The National Enquirer is not going to give up without a fight. Reportedly, AMI has its sources take polygraph tests and sign contracts to verify the truth of their statements. Thus, the company can try to defend its research in court. The defense, on the other hand, must prove there was "actual malice," meaning the prior knowledge of and disregard for the facts.
In some cases, proving actual malice is arduous. However, Neville Johnson explained the tabloid received its information from a source named Mauro Oliveira. The attorney claims Oliveira has for years tried to blackmail, extort, and stalk Richard Simmons to destroy his career and reputation. In fact, Johnson purportedly has an email from Oliveira to Simmons in which Oliveira allegedly says he would recant his statements about gender reassignment surgery for a sum of money.
Plus, Neville Johnson says Mauro Oliveira helped The National Enquirer create multiple false narratives about Simmons. For example, Oliveira allegedly was behind the story that Simmons's witchcraft-practicing housekeeper was keeping the workout tape specialist captive. Then the tabloid supposedly checked its facts with Simmons's publicist, who refuted the claims and told AMI not to print them, but the stories still made their way into publication.
Since the publication of reports about Richard Simmons being held captive, there has been much media speculation related to the exercise mogul's wellness; there is even a popular podcast, Missing Richard Simmons, which explores that topic. However, time and again, Simmons has spoken out to refute the gossip and explain he is simply enjoying a quiet life after years of working hard to help people become healthy.
Although Richard Simmons has taken to social media or made a phone call to a TV show to tell his side of the story before, he seems to feel differently about this situation. This suit could ending up being a landmark case because Richard Simmons is suing for defamation about reports he transitioned genders, but is also sticking up for the right to have a gender identity. In the past, courts in the United States have struggled to figure out a standard for cases that deal with reputations allegedly affected by claims about plastic surgery as well as associations to the LGBTQ community.
So, it will be fascinating to see what happens next. We are totally here for this story. Stay tuned.
Your Daily Blend of Entertainment News
Thank you for signing up to CinemaBlend. You will receive a verification email shortly.
There was a problem. Please refresh the page and try again.