Richard Simmons Has Been Hospitalized In California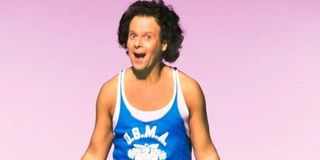 It's been quite a while since Richard Simmons has left his home. This week, a spokesperson for Richard Simmons revealed that the 68-year-old fitness guru sought treatment for "severe indigestion" at a California hospital on Monday, April 17. The exact whereabouts of the star remain private, but the report that Simmons is out in public at all is major news in and of itself. The hospital stay marks the first time in about three years that the public has seen Simmons step away from his estate in California. Here is what we know about the Sweatin' to the Oldies mogul's hospital stay and his mysterious absence leading up to it.
Richard Simmons's manager, Michael Catalano, told ABC News that Simmons decided to pay a visit to the hospital after experiencing severe indigestion and discomfort while eating. Catalano indicated that Simmons was feeling better and should make a full recovery, but he did not clarify other facets of the hospital stay, such as what exactly caused the health trouble. At first glance, severe indigestion might not sound dangerous, but it could be a symptom of an ailment as serious as esophageal cancer, especially when it comes to men in their sixties. Therefore, it is a good thing Simmons made his way to the hospital to check out the problem.
Deciding to leave home and go to the hospital might have been difficult for Richard Simmons. After all, he stopped making formal appearances in 2014 and then quit going out in public whatsoever later that year. He was so reclusive that his whereabouts and well-being became the focus of vast media speculation. Reports in early 2016 questioned whether he was being held captive by his housekeeper. When the discussion reached a fever pitch, Simmons called into The Today Show to deny that rumor and explain that he was happy. However, the statement did not seem to quell the storm, perhaps because Simmons literally phoned it in.
The curiosity behind the sudden absence of Richard Simmons continued with tabloids probing into whether Simmons might be transitioning genders. Simmons firmly denied that gossip in a Facebook post in which he reaffirmed his support of "those who are going through their journey," and he called for a showing of "love, strength and compassion" for the LGBT community after the tragic events at the Pulse nightclub in Orlando. Still, concerns from fans and supporters continued, leading to the 2017 release of the investigative podcast "Missing Richard Simmons," which became one of the most popular podcasts since "Serial" by shining a light on the exercise mogul's unusual departure from the public eye.
It turns out the LAPD visited Simmons's home at least once in the past three years to perform a welfare check because so many people were worried about him. After the most recent visit in March of this year, the LAPD issued a statement to say that Simmons was all right, and he was doing what he wanted to do.
For fans and supporters of the workout video entrepreneur, the questions will probably persist unless or until he makes a public appearance to clear up matters. But is that necessary? It sounds like Richard Simmons is enjoying the winter of his life in ways that fulfill him away from the cameras. Regarding the news about Simmons's hospital treatment, we hope everything turns out well, and we wish Richard Simmons a speedy recovery.
Your Daily Blend of Entertainment News
Thank you for signing up to CinemaBlend. You will receive a verification email shortly.
There was a problem. Please refresh the page and try again.