Gwyneth Paltrow Admitted She Doesn't Always Get What's Going On With Goop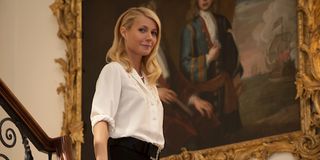 Recently, Gwyneth Paltrow sat down for an interview with late night talk show host Jimmy Kimmel. The two discussed the tenth anniversary of Goop, Paltrow's modern lifestyle brand. Kimmel seemed to have a strong knowledge of the brand and its products and services for people interested in alternative approaches to wellness. The bulk of Goop's offerings seems vanilla enough--city maps, healthy recipes, parenting advice, and so on. Well, maybe they're not vanilla. They're, like, 100%-pure vanilla with a granola topping you can eat to detox. But when things get a little weird on the website, Paltrow admitted to Kimmel that she doesn't always know what's going on. The 44-year-old movie star and entrepreneur said,
Goop plugs some oddball selections from time to time, and Kimmel was sure to mention a few in the interview. Paltrow began the interview explaining she spends regular working hours in the Goop offices each week, but then she noted that she doesn't always have a finger on the pulse of her own company's products and services. For instance, the activity to which Gwyneth Paltrow was referring above is called "earthing." As Paltrow talked to the Jimmy Kimmel Live! audience about earthing, she did seem to be aware it was a somewhat zany topic for mainstream viewers. So, with a knowing shrug, Paltrow joked she didn't always know what she and her peeps at Goop discuss.
But she often does, and she probably knows what people think about her alternative lifestyle ideas, which some people call pseudoscience. In fact, Gwyneth Paltrow indicated as much when she recently got candid in an interview about her divorce--her "conscious uncoupling"--from Coldplay frontman Chris Martin. In that interview, the Iron Man actress intimated she knows some people call her ideas unusual, but she sometimes sees her ideas catch on after some time even when people initially call them strange.
Sure, Gwyneth Paltrow gets a bad rap for saying pretentious things sometimes. Paltrow also gave her kids ultramodern celebrity baby names: Apple and Moses. Her company promotes quirky products, such as jade eggs, which are polished nephrite jade eggs women use to tone their pelvic floor (as Paltrow explained during the interview with Jimmy Kimmel). Still, something about the way she explains it with a knowing shrug of indifference makes it endearing. It's as if she's saying she knows her brand is not for everyone, but she's having fun anyway. Watch the segment here:
Surprisingly enough, it is not the first time we have heard mention of "earthing." Paris Jackson, daughter of the late Michael Jackson, referenced the activity (without naming it) when she posted a nude photo on a balcony and wrote about worshipping Gaia and absorbing the earth's vibrations from contact between the soil and her bare feet. Perhaps the bohemian 19-year-old heiress is the perfect client for Goop.
At the end of the day, Gwyneth Paltrow's heart seems like it's in the right place. It is great to see her in such a happy space in her life. Perhaps if she can step away from the Goop office for a moment, we might get to see her exercise those Oscar-winning acting chops sometime soon.
Your Daily Blend of Entertainment News