Gwyneth Paltrow Just Got Really Candid About Her Divorce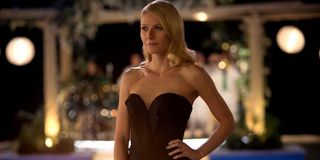 It's been a few years since Coldplay frontman Chris Martin and Academy Award-winning actress Gwyneth Paltrow announced their "conscious uncoupling," a fancy, new-age way of saying the pair had separated after ten years of marriage. The divorce concluded two years later in July of 2016. Now, Paltrow is opening up about the reality of the split. According to the 44-year-old movie star and lifestyle entrepreneur, the divorce was difficult and painful. Nevertheless, Paltrow was determined to find the goodness in the experience. She expressed candid words about the divorce and said,
The unconventional way Chris Martin and Gwyneth Paltrow initially talked about their separation made it sound like they had decided to return home from a picnic at the end of a sunny summer vacation. But now it seems like Martin and Paltrow's "conscious uncoupling" was not such a walk in the park after all. Still, what the Se7en and Shakespeare in Love actress indicates in the interview in The Edit, is that her divorce helped her to adjust her behaviors and emotions in ways that benefited her family and herself.
Chris Martin and Gwyneth Paltrow might have raised eyebrows with the ultramodern description for their breakup, but they do deserve credit for holding fast to their word about wanting to remain amicable with each other. Today, with plenty of time since the divorce, Paltrow seems to be comfortable with how everything worked out. She has a new man in her life, television producer Brad Falchuk. Plus, she and Martin continue to co-parent their 13-year-old daughter, Apple Martin, and 11-year-old son, Moses Martin, so it sounds like Paltrow's extra effort paid off.
Although Gwyneth Paltrow admits she had a difficult time with the divorce, she certainly appeared to keep her act together during it. Furthermore, the way she still speaks with an element of fondness toward Chris Martin is lovely. Not all celebrities find it so easy to play nice after a highly publicized split. Then again, some stars find it hard even to broach the topic of the divorce, while others seem to talk about their divorce ad nauseum for years after the separation. So, from the sounds of it, Martin and Paltrow fared pretty well in comparison to other power couples whose "uncouplings" are a little less "conscious."
Your Daily Blend of Entertainment News