Amanda Bynes Reflects On That Time She Asked Drake To Murder Her Vagina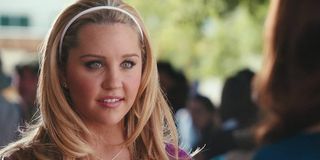 Former actress Amanda Bynes recently gave her first sit-down interview in years. The 31-year-old celebrity appeared to be somewhat nervous at first. However, Bynes loosened up when the show's host asked about one of the many oddball tweets Bynes sent out years ago while dealing with drug use and legal problems. Host Diana Madison admitted she did not want to make Bynes cry, but then asked about the tweet that arguably received the most attention: the one in which Bynes said she wanted Drake to murder her vagina. Instead of deflecting, Bynes gave a straightforward answer, saying,
Amanda Bynes spoke with a sense of humor about the Drake tweet. In fact, the way Bynes answered the host of The Lowdown, made it sound like she had been asked about the tweet before, and done a bit of reflection about the strange messages she used to post back then. Honestly answering the question was the perfect way for Bynes to own up to her history of drug abuse without being gloomy or solemn.
Reportedly, Amanda Bynes has been clean and sober for at least three years. Now she can look back and laugh at the person she used to be in her twenties. She returns to social media once in a blue moon, but these days, her 3.29 million followers on Twitter see pretty harmless updates compared to the Drake tweet and all of those other disturbing messages Bynes posted back in the day.
During the interview, Amanda Bynes talked about what she is up to these days. Bynes said she had learned a lot at the Fashion Institute of Design & Merchandising, and also said she is interested in returning to her acting roots at some point in the future. For example, she expressed interest in doing a guest stint on one of the television shows she enjoys. That could be a great way to kick off a career comeback. After all, Britney Spears followed a similar path to newfound success by guest starring on How I Met Your Mother after her notorious breakdown, which was similar in some ways to Bynes's.
Amanda Bynes also mentioned perhaps developing a new television show with herself as the lead. It could be a while before we hear about Bynes finding success with all of these ventures, but it is heartening to know she is doing well in recovery. But before Bynes wins back favor with fans, she might have to give a few more interviews like this one and offer some more reflection on the weird moments she overcame. Here's hoping some good comes her way.
Your Daily Blend of Entertainment News
Thank you for signing up to CinemaBlend. You will receive a verification email shortly.
There was a problem. Please refresh the page and try again.