Fixer Upper's Joanna Gaines Wants Another Baby, But Is Chip On The Same Page?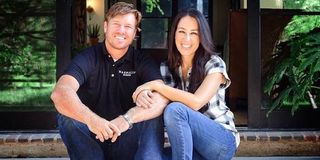 Chip Gaines and Joanna Gaines of HGTV's Fixer Upper might be ready "to renovate" their family and "put on an addition" with a fifth child. In a recent interview, Joanna Gaines explored the idea of expanding her family with another son or daughter. According to the 39-year-old home remodeler, she and her husband have talked about the prospect of more kids. She stated how happy she would be to have a fifth child. Chip Gaines, on the other hand, might not be keen on the idea. Joanna Gaines explained, saying,
Wow, Joanna Gaines would be happy with not one but two more children; meanwhile, her husband is content with four. Currently, the Gaines have a 12-year-old son, Drake Gaines, a 10-year-old daughter, Ella Gaines, a nine-year-old son, Duke Gaines, and a seven-year-old daughter, Emmie Kay Gaines. How the Gaineses find time to manage a household with four children is incredible enough. Adding one---or two---more children sounds like an enormous challenge.
But if anyone could meet the challenge, it would be the Gaineses. It seems like the industrious couple thrives when most busy. In addition to having the most popular show on HGTV, the Gaineses also have a spinoff called Behind the Design. Plus, they have an empire of businesses in Waco, Texas. They own a retail center, and they have a vacation rental home. Now they are preparing to open a breakfast restaurant in Waco once they finish restoring the historic building where it will go. So, adding more children to the mix might not be such a difficult matter for them.
In the interview with People, Joanna Gaines suggests her youngest child, Emmie Kay, gave her a sign that another baby could be on the way one day. Apparently, Emmie Kay never wanted a younger brother or sister until recent times. Joanna Gaines said her daughter's new opinion could be a sign the Stork might return. But Chip Gaines joked,
The Gaineses previously told the magazine they enjoyed looking back at the days before the kids, the business empire, and the hit reality television show. They had no money then, but they were as happy then as they are now. Perhaps that sound basis of happiness and love is the secret to their 14-year marriage and how they can continue building their empire and family.
If the Gaineses do decide to have another child, it would be interesting to see them working on all of their projects while preparing for a new bundle of joy on Fixer Upper. We'll have to stay tuned to see what they decide.
Your Daily Blend of Entertainment News