Johnny Depp Apologized For His Controversial Trump Joke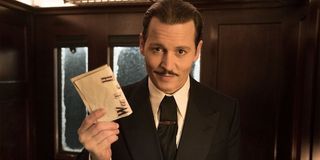 Johnny Depp has been vocal about his disapproval of the current United States presidential administration. Last week, the 54-year-old actor got carried away at the Glastonbury Festival, becoming the latest celebrity to try out jokes about President Donald Trump. After receiving backlash, Depp said he had made the joke in bad taste. He issued a statement to say sorry, noting:
Johnny Depp gave the statement to People to apologize for joking--or perhaps trying to make a joke--about sparking violence against the President of the United States. He was in Glastonbury in the United Kingdom for a screening of his 2004 film The Libertine when he referenced John Wilkes Booth and the assassination of Abraham Lincoln in relation to our current President. He said,
Like Johnny Depp, John Wilkes Booth was an actor, so Depp perhaps saw the humor lurking somewhere in what he said; however, the joke landed flat and sparked widespread disapproval from people on both sides of the political spectrum. In fact, Depp made his comment a mere eight days after an armed assailant opened fire on members of Congress at a baseball field in Virginia and put Republican majority whip Steve Scalise in the hospital. This fact compounded the weight of Depp's lapse in judgment.
The news of Johnny Depp's bad joke arrived on the heels of a slew of other negative reports about his personal life. Recently, reports keep coming to light about Depp's finances. Those reports have corresponded with the actor's legal problems, as his former business management team has countersued him for $25 million after he pursued legal action against them this year. Then reports surfaced about how problematic Depp's behavior was on the set of Pirates 5, and Jerry Bruckheimer even had to defend the leading actor in a statement.
All of those stories popped up in the year since Depp got a divorce from Amber Heard, who has since moved on with Elon Musk. That divorce drama was one for the books because there were domestic abuse allegations and questions about the amount of alcohol Depp was drinking and the state of the movie star's health. So, with all of these negative stories in addition to the gaffe in Glastonbury, times have been tough for Johnny Depp -- but perfect for the tabloids.
Your Daily Blend of Entertainment News
Your Daily Blend of Entertainment News
Thank you for signing up to CinemaBlend. You will receive a verification email shortly.
There was a problem. Please refresh the page and try again.