David Beckham Looks Completely Different In This Throwback Pic With His Mother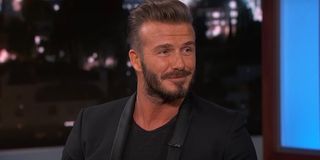 David Beckham recently sent his social media followers into a tizzy when he sent love to his mother, Sandra West, on her 68th birthday. The 42-year-old former professional soccer player took to social media to post a throwback photo of himself with his mom. The photo appeared to be from a time long before fame, fortune, and Posh Spice came into his life. David Beckham's fans and followers were quick to point out how different he looked back then compared to how he looks nowadays. The difference is striking. See for yourself here:
In the photo, which David Beckham shared on Instagram, the athletic Englishman appears to be in secondary school. However, there is no date on the photo to confirm his age at that time.
Although we don't know his age, it looks like David Beckham has always been photogenic. Back then, David Beckham was a fresh-faced kid with the medium-short haircut and part down the middle, a style many teenage boys had. Since achieving success, he has become a trendsetter and tried out dozens of new hairstyles. He's buzzed it off, grown it out, and dyed it blond. He's put it in a fauxhawk and put it in a manbun. He's done the dry look and the slick look with gel. Name the style, and he's probably given it a try. Because Beckham has such a big catalog of looks, his is the face on many a photo taken to the barbershop when a guy is ready for a change these days.
Plus, David Beckham is now a buff model with tons of cool tattoos. Back then, Beckham was but a boy wearing a white button-down shirt and a polka-dotted tie. Sure, Beckham still sports plenty of suits and ties today, but when he does, you can bet he's wearing the best threads by high-end designers like Dolce and Gabbana or Gucci. Then when he is in casual clothes, he still manages to wind up on the best-dressed lists of fashion magazines like GQ.
Many of David Beckham's also noticed how similar he looks to his 18-year-old son, Brooklyn Beckham, in the throwback picture. The resemblance is uncanny. Check out a photo from Brooklyn Beckham's popular Instagram here:
One look at Brooklyn Beckham and David Beckham together and you can tell good looks run in the family. In fact, some of David Beckham's followers also sent plenty of compliments to his lovely mother, and many of them said she resembled Princess Diana.
One thing that has remained unchanged over the years is David Beckham's penchant for winning. In the throwback photo, Beckham and his mom are showing off a trophy he apparently had won that day. These days, he has tons of awards to his name.
Another thing unchanged is David Beckham's love for his family. With social media posts like this one for his mom's birthday, it is apparent how much he loves his family.
Your Daily Blend of Entertainment News