The Surprising Job Offer O.J. Simpson Just Got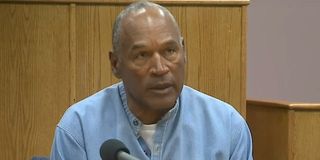 With the news that the Nevada State Parole Commission granted parole for O.J. Simpson, some people have been wondering what the 70-year-old former professional football player might do when he leaves the Lovelock Correction Center in October. But there is actually already a new job offer on the table. Apparently, the owner of an infamous brothel in Las Vegas wants Simpson for "immediate employment." Dennis Hof, the owner of the Bunny Ranch brothel, seems to think O.J. Simpson would be the perfect candidate for a job at his company. Hof said,
Dennis Hof complimented O.J. Simpson as "one of the most charismatic people that you will ever meet," and he indicated that Simpson would flourish in the business because, according to Hof, the legal prostitution industry is all about "warm greetings and friendly rapport." Furthermore, Hof told The Wrap that Simpson would love working at the brothel so much that the ex-convict would never dream of getting into legal trouble again. The brothel owner said,
However, it appears not everyone at the Bunny Ranch is keen on the idea of O.J. Simpson getting his paycheck from the brothel. Brooklyn Moore, an employee at Bunny Ranch, explained that the company faced a lot of challenges in the months after Lamar Odom went into a coma there in 2015 and nearly died. Moore called the ordeal with Odom "a nightmare." She explained,
O.J. Simpson's connection to the Kardashians spans back decades. The late Robert Kardashian was one of Simpson's closest confidantes, and he helped the team of defense lawyers who secured an acquittal for Simpson after he had become the prime suspect in the trial for the deaths of Nicole Brown and Ron Goldman.
O.J. Simpson probably will not take up the offer to work at the Bunny Ranch. He most likely will move from Nevada to Florida to live out the winter of his life with family. After all, O.J. Simpson's eldest daughter, Arnelle Simpson, read a statement during the parole hearing and pleaded for her father's release. She talked about how much the Simpson family wanted him to return with them to Florida.
Moreover, the Commission spoke at length to O.J. Simpson about the stipulations of moving from Nevada to Florida. Plus, during the parole hearing, Simpson indicated he planned not to pursue employment that might bring him attention, such as a webcast series. Getting hired at an infamous brothel would bring nothing but attention. We'll have to wait and see what happens.
Your Daily Blend of Entertainment News