Why Lamar Odom Misses Rob Kardashian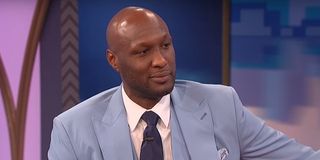 Before Lamar Odom and Khloe Kardashian divorced, Odom was great friends with her younger brother, Rob Kardashian. In fact, Rob Kardashian lived with the two of them for quite a while. Now Odom says he misses Rob Kardashian because they never speak anymore. In a recent interview, the 37-year-old former professional basketball player revealed the sad state of the friendship. Odom had trouble explaining why the friendship went south, but he indicated his marriage to Khloe Kardashian most likely contributed. Odom explained, saying,
If what Lamar Odom said on The Wendy Williams Show is any indication, he has done much self-reflection since he and Khloe Kardashian split. Odom might be correct that negative situations in his marriage to her strained his friendship with his former brother-in-law. Then again, much has happened in Odom's and Rob Kardashian's worlds in recent years.
For example, Lamar Odom went into a coma at a brothel in Las Vegas in October 2015. When he came to, Khloe Kardashian was by his side despite having filed for divorce earlier in the year. However, she refiled for divorce in 2016 when she saw pictures of Odom drinking. Since then, Odom has (mostly) cleaned up his act. (He admitted to Wendy Williams that he still drinks alcohol sometimes, even though it was the final straw for his ex-wife. However, he says he is clean from drugs.)
Life has been busy for Rob Kardashian as well. The 30-year-old reality television personality and his estranged girlfriend, Blac Chyna, went public with their relationship in early 2016. He proposed to her in April of the same year and then they announced they were to become parents. The on-and-off couple had a Keeping Up with the Kardashians spinoff, E!'s Rob & Chyna, which documented their therapy sessions and fights. Then Blac Chyna gave birth to Dream Kardashian in November 2016, and by February of this year, the pair had called it quits. So, it is no wonder Rob Kardashian is too busy to hang out with his sister's ex-husband.
Still, not being close to Rob Kardashian, not to mention the rest of the famous family, might be a good thing for Lamar Odom. When Wendy Williams asked him whether or not he would get back together with Khloe Kardashian, Odom gave a straightforward, "No." He said not getting back together and keeping a healthy distance would be the best plan for the both of them. Perhaps Lamar Odom will get a chance to see Rob Kardashian down the road and apologize for the strain he feels he caused.
Your Daily Blend of Entertainment News