Khloe Kardashian Admitted She Faked Trying To Have Kids With Lamar Odom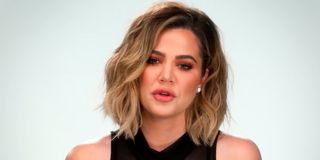 Khloe Kardashian filed for divorce from Lamar Odom in 2013, and the pair legally split in December of 2016. The two have no children together. However, back when Kardashian and Odom were still sticking to their for better or worse vows, Kardashian underwent fertility treatments to improve her shots of becoming pregnant. Well, at least that was what she was saying back then to Odom. The 32-year-old reality television personality recently revealed she "fake tried" to get pregnant and the fertility treatments were a façade. Kardashian opened up about her faux attempts at becoming pregnant and said,
Khloe Kardashian revealed the secret in a preview for the season finale of Keeping Up with the Kardashians, during which she and her older sister, Kim Kardashian, paid a visit to a fertility doctor. They visited to discuss the possibility of Khloe Kardashian becoming the surrogate of the third child Kim Kardashian and Kanye West would like to have. The jury is still out on what the result of the Kardashian sisters' visit to the fertility doctor will be. But during the meeting, the doctor asked whether Khloe Kardashian had ever tried to become pregnant. The Revenge Body star at first gave an affirmative answer, but then she backpedaled a little bit and explained about not following through with fertility treatments because of the state of the marriage.
On the episode, Khloe Kardashian explains she chose not to pursue becoming pregnant in earnest because "it wasn't the right situation" for a child. Moreover, she indicated she felt okay talking about the matter because for too long she took on the burden of covering up marital issues and Lamar Odom's dark problems. So, in saying this, Khloe Kardashian makes it sound like she had some awareness her marriage was on the outs. Furthermore, when Khloe Kardashian talks about the "deeper stuff" in their marriage, she underscores her previous statements about Lamar Odom's drug problems.
These days, things are looking up for both Lamar Odom and Khloe Kardashian in their separate lives. Lamar Odom recently talked about his sobriety journey and the many realizations he has made in the time since he hit rock bottom. Kardashian is now getting more and more serious in her relationship with Cleveland Cavaliers basketball player Tristan Thompson, and she sees a great future for them. She has previously expressed interest in starting a family, so perhaps one day she will get a chance to try fertility treatments for real.
Your Daily Blend of Entertainment News