Are Robert Pattinson And FKA Twigs Engaged? Here's What The Twilight Actor Says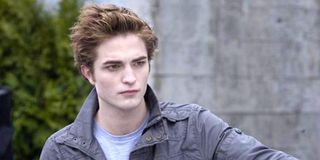 Sorry, Twilight fanatics. Robert Pattinson is off the market. The 31-year-old actor, who played Edward Cullen in the film adaptations of the Twilight books, recently sat down for a radio interview with Howard Stern. Pattinson finally sort-of revealed that he and his musician girlfriend FKA Twigs are headed down the aisle. When Stern asked Pattinson whether or not he and FKA Twigs are engaged, Pattinson gave the most elusive answer ever, saying,
During the July 25 episode of The Howard Stern Show, Robert Pattinson was hesitant to acknowledge his engagement to English musician FKA Twigs, but he had a good reason. According to Pattinson, many fans of the Twilight series are either wanting him to be single or still mad about his break-up with Kristen Stewart, so he has to use discretion when he talks about his personal life.
Howard Stern said he and Robert Pattinson take vastly different approaches when it comes to dating women. Stern said he is not secretive about the women he dates and sees showing off his relationship as a fun part of romance. But Stern's longtime co-host, Robin Quivers, chimed in to support Pattinson's attitude toward talking about love.
Robin Quivers stressed how Howard Stern had never experienced the extreme level of scrutiny attached to every relationship Robert Pattinson entered. Pattinson agreed with Quivers and said he finds it frustrating not to be able to shout it from the rooftops that he is in a great relationship. Pattinson said protecting the relationship sometimes poses challenges for the actual relationship itself. However, he indicated that some of his most intense fans loathe the fact that he is with FKA Twigs, so he has to be careful. Pattinson explained, saying,
Despite taking a different approach to relationships, Howard Stern complimented Robert Pattinson on his involvement with FKA Twigs. In fact, Stern mentioned how he had recently become a fan of FKA Twigs' brand of R&B and electronica. Stern praised the "Two Weeks" singer's artistic vibe and called her a great singer and songwriter.
Robert Pattinson and FKA Twigs, whose real name is Tahliah Debrett Barnett, began dating in September 2014 following Pattinson's breakup with actress Riley Keough, whom he dated for after his breakup with fellow Twilight star Kristen Stewart. Pattinson and FKA Twigs met through mutual Hollywood friends, Sienna Miller and Tom Sturridge. The press learned that Pattinson and the 29-year-old singer had become engaged when rapper T-Pain let the news slip in an interview in 2015. However, no wedding ever came after the announcement, and the Stern interview was the closest we've gotten to a confirmation about the engagement from Pattinson. We'll let you know if wedding bells do eventually chime.
Your Daily Blend of Entertainment News
Thank you for signing up to CinemaBlend. You will receive a verification email shortly.
There was a problem. Please refresh the page and try again.