Amber Rose Reveals How Miserable She Was While She Dated Kanye West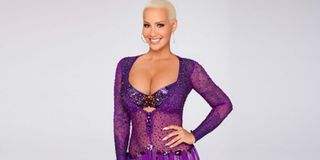 Amber Rose is opening up about the tough time she had during and after her two-year relationship with rapper Kanye West. In a recent interview, Rose revealed that she and West had a tumultuous romance during their time together. Apparently, when the love affair started having problems, the 33-year-old model and actress found herself penniless and uncertain what to do with her newfound fame. Rose explained, saying,
Amber Rose sat down for an interview on Complex's Everyday Struggle show, where she talked about, among other things, the SlutWalk event she is promoting. At one point, the conversation shifted into a dialogue about times in Rose's life when she, herself, felt bullied and slut-shamed.
According to Amber Rose, Kanye West was among the people who made her feel persecuted. Rose acknowledged that her relationship with West was a notable moment for hip-hop culture, and she felt glad to be a part of it. However, she explained that the relationship left her worse for wear. Rose said,
Amber Rose and Kanye West started their torrid love affair in 2008, a troublesome time in West's life. Both celebrities were in their twenties and trying to navigate the world of fame. The relationship burned hot and fast, and they called it quits around the two-year mark.
Then, in the years after Amber Rose and Kanye West parted ways, West mentioned her from time to time. Right after their split, for example, West used his break-up with Rose as a means of inspiration for his Grammy Award-winning album My Beautiful Dark Twisted Fantasy.
In fact, Kanye West tossed out words about Amber Rose as recently as last year when he got into a Twitter war with Wiz Khalifa, the father of Rose's child. In a series of tweets, West made fun of Rose and, without naming her, called her a stripper. West and his rap contemporary went back and forth hurling insults at each other, and Rose even stepped in at one point. West then deleted his tweets.
Today, Amber Rose is still navigating Tinseltown. For example, she appeared in Season 23 of Dancing with the Stars last year and made it five rounds dancing with Maksim Chmerkovskiy as her partner. So, it sounds like Rose wants to regain control of her narrative. Hopefully, she can move forward and leave the heartbreak in the past.