The Kind Way Olivia Wilde Responded After Jennifer Lawrence Puked At Her Show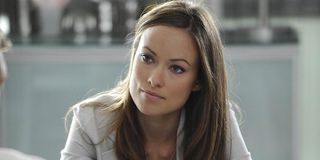 This month, Academy Award-winning actress Jennifer Lawrence got sick to her stomach and threw up at a performance of the Broadway show 1984. Now Olivia Wilde, one of the stars of the Orwellian play, has shared sweet, supportive words for Lawrence. In an interview, Wilde said Lawrence has no reason to feel sorry. In fact, Wilde apparently reached out to Lawrence in the days afterward, and she even sent a care package to the movie star.
Previous reports said Jennifer Lawrence had bolted from her seat midway through the show, and she required help from ushers in the lobby when she got sick. Olivia Wilde talked about the whole situation when she spoke to Andy Cohen on Watch What Happens Live. The House actress emphasized that Jennifer Lawrence had absolutely nothing to apologize for whatsoever. Wilde explained,
A couple of days after the incident, Olivia Wilde took to Twitter to make light of the situation. She also wished Jennifer Lawrence a speedy recovery and expressed her love for the 26-year-old actress. Wilde tweeted,
Andy Cohen knew all about Jennifer Lawrence's stomach flu. It turns out she was scheduled to appear on his show on the night she got sick at 1984. Of course, she had to bail from the late-night Bravo show so she could go home and rest.
Stomach flu might have caused Jennifer Lawrence's queasiness. However, the Silver Linings Playbook actress was not the first audience member to get sick at a performance of Olivia Wilde's show. The intensity of 1984 might have contributed to other audience members fainting and throwing up at past performances. In fact, after four people passed out at the show, Wilde tweeted words of support. She also provided a warning about the intensity of the stage adaptation of the classic novel by George Orwell. Wilde tweeted,
People who have seen the show say it is noisy and shocking. Supposedly, there is a crazy scene with a rat that has the potential to turn stomachs. Sure, people getting sick at the new 1984 play sounds crazy, but it also makes the show seem cool.
As for Jennifer Lawrence, she appears to be back to normal now. She reportedly joined Amy Schumer, Judd Apatow, and Chris Rock at a fundraiser for SafeBAE, a charity raising awareness about sexual assault in schools, student's rights under Title IX, and ways to prevent dating violence. Maybe Lawrence will give an account of what happened at 1984 one day.
Your Daily Blend of Entertainment News
Thank you for signing up to CinemaBlend. You will receive a verification email shortly.
There was a problem. Please refresh the page and try again.