9 Actresses DC Should Get To Play Catwoman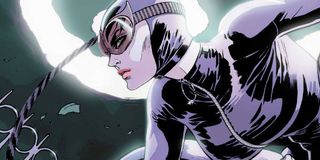 Gotham City is about to get considerably larger in the DCEU, and some seriously badass femme fatales are going to make their debut in Gotham City Sirens. David Ayer's upcoming film will mark a significant moment for the realm of live-action DC adaptations, as it will represent the first time that the Sirens and the Birds of Prey have ever appeared on the silver screen. Having said that, Margot Robbie's Harley Quinn is the only Gotham City Siren currently confirmed for the film -- with Poison Ivy and Catwoman waiting in the wings. With so few established details, this particular film has become ripe for speculation.
Although no actual casting announcement has been made for the role of Catwoman yet, we figured we would be proactive and compile a list of nine actresses that we think are perfect for the iconic silver screen role. Each of these choices brings something different and exciting to the table, but all of them have one thing in common: they would all kill it as Selina Kyle. On that note, we should start this list off with the youngest actress of the bunch: Alexandra Daddario.
Alexandra Daddario
At 31, Alexandra Daddario is the youngest possible Catwoman on this list, but she has turned in a wide variety of compelling performances through a broad range of genres over the course of the last few years, and we think that experience could easily translate to a pitch perfect Catwoman. Her work in the Percy Jackson movies, as well as San Andreas have established her ability to perform in effects-driven blockbusters, and her turns in small screen projects like True Detective and American Horror Story have definitively confirmed that she can deliver the goods in quieter, more dramatic moments. She's a talented actress who appears destined for a signature franchise role, and Catwoman seems like the perfect choice at this stage.
Sofia Boutella
To date, most of Sofia Boutella's most notable film roles have required her to cake herself in makeup or speak as little as possible. This seems like a tragic waste of talent, as the 35-year-old Algerian actress has proven time and time again that she knows how to handle herself incredibly well in an action scene. Her recent work (particularly in Star Trek Beyond and Kingsman: The Secret Service) appropriately established her ability to deliver charisma and badass action sequences in spades, and her background as a classically trained dancer could allow her to quickly sell the grace and agility that we have come to expect from a badass comic book villainess (and sometimes heroine) like Selina Kyle.
Rebecca Ferguson
Rebecca Ferguson is one of Hollywood's fastest rising stars, and her unexpectedly compelling turn as Ilsa Faust in 2015's Mission: Impossible - Rogue Nation definitively proved that she has what it takes to headline an action movie. She knows how to convincingly (and acrobatically) handle herself in an intense action sequence, and her role as Ms. Faust seems like the perfect dry run for a beloved character like Selina Kyle. Rebecca Ferguson will star alongside Superman actor Henry Cavill in Mission: Impossible 6 (which is currently in production), so perhaps she can ask him to put in a good word with the folks at DC and Warner Bros. when the time finally comes to figure out who should play Catwoman.
Eva Green
When it comes to fan-casting ideas for the role of Selina Kyle, Eva Green's name is one that has been thrown around by countless fans for years. It is not necessarily hard to understand why so many fans feel the way that they do; her turn as Vesper Lynd in Casino Royale has made her one of the most famous and iconic Bond girls of all time. Beyond that, she has become one of Hollywood's go-to actresses for fantastical, effects-driven blockbusters -- quickly standing out as the best part of movies like Sin City: A Dame to Kill For, 300: Rise of an Empire, and Miss Peregrine's Home For Peculiar Children. Of all the choices on this list, she's definitely a fan-favorite.
Olivia Wilde
Selina Kyle is a character who can be dark and brooding in one moment, and a fun-loving crook in the next. Of all the actresses present on this list, few have the ability to strike both of those tones quite like Olivia Wilde. Aside from the fact that she's a dead-ringer for the comic book version of Catwoman, Ms. Wilde also has established a particular knack for CGI-heavy action sequences, and her ample experience in the comedy genre could allow her to easily go toe-to-toe with Margot Robbie's Harley Quinn in some of Gotham City Sirens' lighter and more humorous moments. If the Tron: Legacy sequel never materializes, then we think Catwoman would be a perfect consolation prize for not returning to Quorra.
Ruth Negga
Although she's now an Oscar-nominated actress for her work in Loving, Ruth Negga is clearly not above working on comic book adaptations. Negga has become a scene-stealer as Tulip O'Hare on AMC's Preacher, and she even played on the opposite side of Marvel/DC fence as Raina on Agents of S.H.I.E.L.D. She certainly has the acting chops to deliver as Selina Kyle in the DCEU, and her recent performances (specifically her turn as Tulip) have completely sold us on her ability to handle herself in an action sequence while cracking a smile. Don't believe me? Go back and watch her fight scene in the back of a runaway car during the first season of Preacher; she is a badass.
Paula Patton
Paula Patton is yet another example of a badass actress with several strong action performances under her belt, but no signature role to her name. Despite the fact that she delivered a stellar performance as Jane Carter in 2011's Mission: Impossible - Ghost Protocol, Patton has been absence from any important franchises for the bulk of her career -- aside from an appearance in last year's Warcraft (but the less we say about that film, the better). She has a history of handling herself well in fight scenes, and knack for portraying stern strength would make her a perfect depiction of a Catwoman who knows how to play line between good and evil to get what she wants.
Emily Blunt
Between Emily Blunt's work on films like Edge of Tomorrow and Sicario, she has very clearly proven that she has no trouble inhabiting the personalities of scrappy, intense, and downright tough women on the silver screen. Couple that with the fact that she has performed in numerous fantasy films throughout her career, and we think that she could potentially make a perfect Catwoman. Beyond that, it simply would seem like an incredibly poetic twist of fate for Ms. Blunt to inherit the role of Selina Kyle from her former Devil Wears Prada co-star Anne Hathaway -- who delivered a wholly underrated performance as the character in Christopher Nolan's The Dark Knight Rises back in 2012. We are sure Hathaway could provide some pointers.
Priyanka Chopra
Last but not least, we have Priyanka Chopra. Like Deepika Padukone (whom we have already established as a perfect choice for Poison Ivy in Gotham City Sirens) Ms. Chopra is another Bollywood transplant who has made a very healthy transition to western cinema. Her role as Alex Parrish on ABC's Quantico has garnered critical acclaim since the show's debut in 2015, and Chopra is currently slated to make her mainstream silver screen debut later this year when Baywatch hits theaters on May 26. She's another perfect example of an actress whose star is on the rise, and we think that the could be an absolutely perfect choice to take on the role of Catwoman for Gotham City Sirens.
Of course, that's merely our take. Who do you want to assume the role of Catwoman in Gotham City Sirens? Let us know what you think in the comments section below! The film is currently in development at Warner Bros.
Originally from Connecticut, Conner grew up in San Diego and graduated from Chapman University in 2014. He now lives in Los Angeles working in and around the entertainment industry and can mostly be found binging horror movies and chugging coffee.
Your Daily Blend of Entertainment News
Thank you for signing up to CinemaBlend. You will receive a verification email shortly.
There was a problem. Please refresh the page and try again.