When Kim Kardashian Knew Her Marriage To Kris Humphries Wasn't Going To Work Out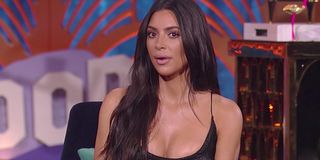 The 2011 marriage of Kim Kardashian and Kris Humphries lasted 72 days. Evidently, it took longer for the Keeping Up with the Kardashians celebrity to put the ordeal of the divorce behind her. However, it sounds as though she has finally made sense of what happened. With plenty of time between then and now, Kardashian has opened up about how she knew the marriage was doomed almost as soon as she said, "I do." In an interview, the 36-year-old reality television personality explained,
Kim Kardashian assessment that something about reaching birthday milestones compels people to want to make big life decisions has been proven by other celebs. Still, it is interesting to hear a Hollywood figure as famous as Kardashian talk about the matter in the frank way she did on Watch What Happens Live with Andy Cohen. Wanting to gather a sense of purpose and direction seems like a fairly common human desire. Perhaps the most damaging aspect of the situation was that Kardashian seemed to drag Kris Humphries through the mud to reach the realization that marrying him was wrong for her. You can check out more from the interview here:
Not long after Kim Kardashian and Kris Humphries married, E! aired a two-part special chronicling the preparation for the wedding and the ceremony itself. However, mere weeks after the special aired, the marriage was over. With the world as the stage for the wedding and divorce, Kardashian took heat from critics who immediately lambasted her as a fraud. Many media outlets questioned if the entire marriage had been nothing more than a ploy to promote the Kardashian brand. There was even a popular petition to remove the Kardashians from television.
Of course, it appears Kim Kardashian came out on top of that situation. Still, the way Kardashian speaks makes it sound like she did a lot of soul-searching in the aftermath of the divorce. Now Kardashian can look back on the marriage to Kris Humphries as a misstep, as these days, Kim Kardashian is married to rapper Kanye West, with whom she shares a four-year-old daughter, North West, and a one-year-old son, Saint West. Kardashian and West seem like the perfect match for each other in that they are both at the pinnacle of celebrity and have some complex obsessions with fame. Plus, they genuinely seem to love each other and enjoy growing their family. Perhaps everything happens for a reason.
Your Daily Blend of Entertainment News