Justin Bieber Won't Be Charged For Hitting Photographer With Car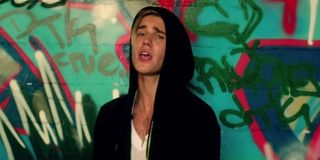 July saw a mix of highs and lows for Justin Bieber, but it looks like one negative experience might not follow him. After prematurely ending his world tour, Bieber sought some spiritual refuge at a church service. Unfortunately, Bieber hit a paparazzo with his truck when he was pulling away from the venue. Whether you are a star as famous as Bieber or not, a situation like that one could lead to time in court. However, it turns out the police plan not to charge Bieber for the accident, after all.
Apparently, the authorities determined that Justin Bieber was the one who had the right of way when he was pulling away from the City Church in Beverly Hills, California. Furthermore, the lights of the paparazzi's cameras blinded the 23-year-old pop singer while he was trying to drive. Plus, Maurice Lamont, the photographer who got hit, was standing in the street to get the shot of Bieber. As TMZ tells it, Lamont should not have been out there, so if anything, he was the one in the wrong. However, the police were not there to witness Lamont in the street, so he will not face any charges either, which would have added insult to injury.
Despite hurting his leg, Maurice Lamont seemed to know the situation would not work out in his favor. Lamont hopped on Instagram and posted a video of himself in a hospital bed before surgery. In the video, which Lamont has since deleted, the photographer explained that Bieber was a "good kid." He said,
The news of the accident arrived on the heels of Justin Bieber canceling the last dozen or so concert shows of his Purpose World Tour. After the cancellation, Bieber's manager explained that the 23-year-old pop singer needed to take off time to refresh his mind and spirit. Bieber himself then apologized to fans who saw the cancellation as a betrayal.
Luckily, after this accident occurred, Justin Bieber seemed not to allow it to have an adverse impact on him. In the immediate aftermath, Bieber reportedly parked the truck, jumped out, and rushed over to the photographer to help. Moreover, eyewitnesses said he seemed to react calmly to somebody who started screaming amid the chaos. So, it sounds like Bieber is ready to turn move forward from the event. Hopefully, Bieber continues down this path, the photographer recovers from the accident, and both people can find a lesson in this situation.
Your Daily Blend of Entertainment News
Your Daily Blend of Entertainment News
Thank you for signing up to CinemaBlend. You will receive a verification email shortly.
There was a problem. Please refresh the page and try again.