Kevin Hart Posts A Public Apology After Reported Extortion Attempt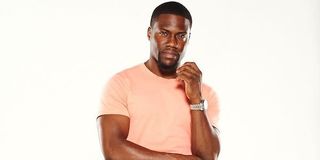 Kevin Hart recently laughed off reports he cheated on his wife, Eniko Parrish, but now he is embroiled in a sexually suggestive scandal that is not a laughing matter. Apparently, an extortionist has been blackmailing Hart for millions of dollars over a videotape that reportedly shows him in a compromising position. In response, the 36-year-old comedian hopped on social media to post a remorseful message explaining his regrets. In Hart's message, he said,
Reportedly, the tape does not show two people having sex; rather, TMZ says it insinuates sexually suggestive activities had just taken place or were about to take place. Still, Kevin Hart is a pretty straightforward, tell-it-like-it-is celebrity, so it makes sense that he posted the remorseful Instagram message. But after news of the extortion plot surfaced, the extortionist actually reached out to the media and said,
In other words, the extortionist wants people to believe Kevin Hart set up his Hurricane relief efforts to raise funds he could use to pay off his blackmailer and keep the videotape hidden. However, people close to the Jumanji: Welcome to the Jungle actor say that accusation is false, and the money he raised for hurricane relief efforts truly will help individuals in need.
The most recent news is that the FBI has agents looking into the matter. But it is not clear whether the woman in the video is the prime suspect or if the detectives are going after somebody who intercepted the video, either by stealing the smartphone on which it was filmed or hacking into someone's stored cloud data. To that end, Kevin Hart's representative released a statement and said,
Cheating rumors have followed Kevin Hart for a long time, but he has continued to deny cheating on Eniko Parrish. He ridiculed accusers with social media messages about how critics make him laugh when they call him unfaithful. But Kevin Hart previously confessed to cheating on his ex-wife, Torrei Hart, to whom he was married from 2003 to 2011. In fact, Parrish recently stirred up controversy by inadvertently hinting she and Kevin Hart began their relationship while he was still married to Torrei Hart. The women took a few jabs at each other in statements, but then they seemed to set aside their difference for the sake of the kids--12-year-old Heaven Hart, 9-year-old Hendrix Hart, and the half-brother or half-sister that is on the way.
It is a shame to see these problems in Kevin Hart's private life. Hopefully, he can resolve everything and move forward to keep working on compassionate works, such as his hurricane relief efforts.
Your Daily Blend of Entertainment News
Your Daily Blend of Entertainment News
Thank you for signing up to CinemaBlend. You will receive a verification email shortly.
There was a problem. Please refresh the page and try again.