Kevin Hart Responds To Rumors He Cheated On His First Wife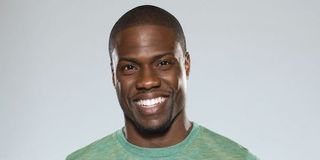 Kevin Hart's personal life recently came under scrutiny for the second time in months because of an inadvertent disclosure that his wife, Eniko Parrish, offered to the internet. Whether by accident or faulty math, Parrish let it slip that she and Hart began their relationship eight years ago, two years before he and his ex-wife were divorced. While people on social had a meltdown, Hart addressed the rumors head on in a video. He said,
Kevin Hart continued speaking his mind via an Instagram video in his stories. The 38-year-old comedian said a person came up to him on the street and expressed something he or she "felt was factual information" about his personal life. He indicated the rumor was so outlandish that it made him laugh.
The response about laughing away cheating rumors mirrored a post that Kevin Hart uploaded earlier this summer when people caught wind of supposed infidelity in his past. Hart wrote that at the end of the day he has to laugh about the BS. Check out that post here:
Kevin Hart's current wife, Eniko Parrish, caused the initial stir this month when she went to social media, inadvertently claiming to have been with Hart for eight years. Fans and followers were quick to mention that Hart filed for divorce only six years ago, so either Parrish's math was wrong, or there was overlap in the relationships. However, Parrish explained,
In comments, which Eniko Parrish has deleted, Parrish explained that Kevin Hart dated several women after he and Torrei Hart separated. Parrish said that her relationship with him, which originated after the separation, was the one that "stuck." At one point, Parrish gave a flat-out answer, writing,
However, Kevin Hart's ex-wife, Torrei Hart, kept the fire burning and the questions coming. She directly responded to Eniko Parrish and wrote,
Torrei Hart also spoke to TMZ in an off-the-cuff interview in Hollywood. She began by emphasizing how long ago it was that she and Kevin Hart parted ways. She got in a jab by saying she wished she had enough time as Eniko Parrish to sit around and respond to comments on social, and she noted that "numbers" and "dates" don't lie. However, she wrapped up with an olive branch of sorts by saying,
Kevin Hart previously broached the tough topic of his former marriage when he visited Chelsea Handler on her Netflix show. The Jumanji: Welcome to the Jungle star said he messed up his first marriage and now feels willing to admit it. Hart confessed at the time that he was only 22 when he got married, noting there were problems.
Kevin Hart then spoke fondly of his post-divorce relationship with Torrei Hart. He said they had managed to become friends and great co-parents. He and his ex-wife share a 12-year-old daughter, Heaven Hart, and a nine-year-old son, Hendrix Hart. Meanwhile, Kevin Hart and Eniko Parrish are expecting their first child together.
Despite the drama, it sounds like everyone is trying to keep the kids' best interest at heart (no pun intended). Hopefully, Torrei Hart and Eniko Parrish can work out a solution to keep the personal laundry, which may or may not be dirty, off the internet.
Your Daily Blend of Entertainment News