Celebrities Who Have Donated Toward Harvey Relief Efforts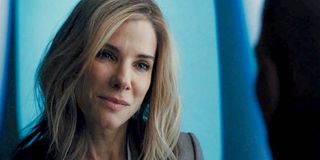 Tragic updates continue coming from Houston, Texas, in the aftermath of Tropical Storm Harvey. Now many celebrities with the means to help are donating money, time, and support to assist the people affected by the floods. To keep track of all of the do-gooders out there in the celebrity universe, we've put together a list of the stars who have been working to help people survive after the big storm. Let's start with Sandra Bullock.
Sandra Bullock
Sandra Bullock donated $1 million to the American Red Cross. The star of the upcoming Ocean's 8 released a brief statement to People and said,
Sandra Bullock has donated more than $5 million to other disaster relief funds in the past. For example, she gave $1 million for September 11 relief efforts in 2001, $1 million for tsunami relief efforts in 2004, and $1 million for Hurricane Katrina relief efforts. Rumor has it Bullock tries to donate the money quietly so as not to take attention away from the causes.
J.J. Watt
J.J. Watt is a defensive end for the Houston Texans, and now he is defending his city again with the Houston Flood Relief Fund, which he set up on YouCaring. On the page, Watt wrote,
As of this article's publishing, the fund was nearly at its goal of raising $10 million. Hopefully, the final amount far surpasses the goal.
Kim Kardashian
Although Kim Kardashian has a book called Selfish, it appears she is anything but. In the wake of Harvey, the reality television personality and her famous family members donated $500,000 to the Red Cross and the Salvation Army. Kardashian announced the generous gift on Twitter and expressed prayers for the people in Houston. Her mom, Kris Jenner, reiterated the announcement via her accounts on social as well and wrote that the Kardashian-Jenners' "hearts go out to the people of Texas."
Kevin Hart
First, Kevin Hart donated $50,000 of his own money to the Red Cross. Then the comedian set up a Hurricane Harvey Donations page on Crowdrise, and it has raised more than $1.2 million since the time of this post. Then he hopped on Instagram to begin the "Hurricane Harvey Relief Challenge" and ask other celebrities and people in powerful positions to donate $25,000.
Dwayne Johnson
Dwayne "The Rock" Johnson took up Kevin Hart's challenge and donated $25,000 to the Red Cross. He posted a heartfelt response on Instagram and expressed empathetic words, saying he knows what people are going through because he and his family experienced the devastation of Hurricane Andrew in 1992.
Jennifer Lopez and Alex Rodriguez
J. Lo and A. Rod, who have been dating for a few months, came together to announce they each would donate $25,000 to the Red Cross in response to Kevin Hart's challenge. Jennifer Lopez called the footage of the displaced families and children "devastating," and she encouraged people to give whatever they can be it $1, $2, or $10.
Alex Rodriguez called it an opportunity to come together as one to help the people in distress. The duo signed off with prayers for everyone.
Nicki Minaj
Nicki Minaj reposted Kevin Hart's original video on her Instagram account, and in the caption, the rapper announced she would donate $25,000. "Great work," she wrote, adding that she is praying for everyone there.
Jack Antonoff
Jack Antonoff was one of many celebrities who made a donation but diverged from the norm of sending money to the Red Cross. The musician tweeted that he would match donations up to $10,000 for the Montrose LGBT Center in Houston.
Ruby Rose
Ruby Rose was inspired by Jack Antonoff's big heart. So, the Orange Is the New Black actress said she would match his donations up to $10,000 to the same charity.
Beyonce
Queen Bey was born and raised in Texas, so the disaster seems to have hit her in a personal way. Beyonce did not say she would donate a dollar amount for her charitable donation. Instead, she announced in the Houston Chronicle that she was diving into the situation to take a hands-on approach with assistance from her BeyGOOD Foundation and her pastor, Rudy Rasmus of St. John's in Houston.
Drake
Drizzy took an approach similar to Beyonce's in that he did not announce how much money he would donate and instead wrote about working with relief teams in Houston. On social, Drake wrote that Houston had become his home over the last eight years, so he was actively working to assist in the most immediate way possible.
How can I help?
Check out options for donating to a charitable organization of your choice. If you feel like you don't have enough money to give, get creative, like Baleigh Wisock, a 20-year-old artist. As the Houston Chronicle tells it, Wisocki made drawings of some of RuPaul's Drag Race contestants, including Bianca del Rio, Adore Delano, Miss Fame, Naomi Smalls, and Trixie Mattel. Then Wisocki put the renderings for sale on her Instagram. She sold four of pictures, made $135, and sent the earnings to J.J. Watt's relief fund.
Remember that you don't have to be a rich celebrity to help. Use what you have, be it money, skills, or time, and try your best to make a difference during Houston's darkest hour.
Your Daily Blend of Entertainment News