Alexander Skarsgard Has A Mustache Now, And People Have Thoughts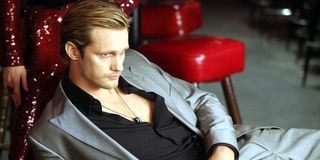 Alexander Skarsgård had a big night at the 2017 Emmy Awards. The 41-year-old Swedish actor won for Best Supporting Actor in a Limited Series for his portrayal of Perry Wright, the husband of Nicole Kidman's Celeste Wright in HBO's Big Little Lies. Skarsgård's performance earned much praise, but the facial hair he wore to the acceptance podium earned him some very different reactions. In fact, the conversation on social media about Skarsgård's big appearance seemed focused on the much lighter topic of Skarsgård's mustache. For example, many viewers took to social media to tweet thoughts like:
And before you get too judge-y yourself, you can take a look at the actor's large 'stache, courtesy of Twitter, along with a tagline that's pretty snarky and harkens a little bit back to Alexander Skarsgård's immortal True Blood days.
The actor even got some comparisons to a pretty famous Muppet, so that's something.
Then some mixed reviews said Alexander Skarsgård's innate sexiness canceled out the ick-factor of the blonde mustache. Some viewers paid lip service, or above-the-lip service as it were, and tweeted:
Alexander Skarsgård has several acting projects in the works to follow up his Emmy-winning performance on HBO's Big Little Lies and his last big onscreen turn in Legend of Tarzan. Still, there is no word whether he decided to go Wyatt Earp with a mustache for a movie role or just because he could.
Many people saw the mustache as a swing and a miss, yet one could make the argument that the mustache is on-brand for Alexander Skarsgård, a guy who knows how to make bad look good. After all, Skarsgård won audiences hearts as bad-boy vampire Eric Northman in True Blood. Then he made everybody cringe this year as the handsome but despicable Perry in Big Little Lies. So, the Skarsgård stache is a good reminder of the actor's badass, rebellious side, even if the look is not on par with, say, the robust mustaches of facial-hair aficionados like Nick Offerman, Tom Selleck, Burt Reynolds, and Tom Skerritt.
Your Daily Blend of Entertainment News