Watch Reese Witherspoon Say Hi To More Than 200 Fans During An A+ Facebook Live Video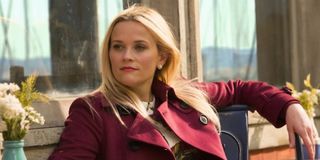 Oscar-winning actress Reese Witherspoon recently gave us yet another reason to love her. The star of the David E. Kelley production Big Little Lies took a moment out of her vacation on a beautiful Caribbean beach to share her vacation via Facebook. She used the occasion to say hello to more than 200 people and respond to their comments and questions. Witherspoon beamed from ear to ear throughout the half-hour video, and so did we. You can catch the adorable clip here:
In the Facebook Live chat, Witherspoon came across as humble and grateful, and she seemed like a real actor's actor. She focused on promoting the finale of Big Little Lies, which aired on Sunday, but she also responded to messages from other directions. The actress replied to fans who posted messages expressing love for her past projects, such as Legally Blonde and Sweet Home Alabama. She took unexpected messages, such as one about her memories of working on Friends as Jennifer Aniston's TV sister. Witherspoon even told a fan how happy she felt reading a loving message about the movie Wild, which was directed by Big Little Lies director Jean-Marc Vallée. Witherspoon talked about meeting her Big Little Lies co-star Laura Dern on the set of Wild, too.
At one point, the 41-year-old movie star said that she would like to have another video chat session after the finale of Big Little Lies. In fact, Witherspoon added that she wants her colleagues from the show to join her for another Facebook Live chat so that they can have fun answering questions from fans of the HBO miniseries. From the sounds of it, Witherspoon has developed close friendships with her co-stars on Big Little Lies, so maybe she can get them on board. Witherspoon gushed about her colleagues and told a fan that she is, indeed, great friends with Nicole Kidman and her family. Witherspoon said she had called Shailene Woodley the day before to say she missed her. How fun! Leave the Tinseltown rivalries to Ryan Murphy's Feud. We want to hear more about this new age of Hollywood camaraderie.
It appears Witherspoon has had a chance to soak up the sun in a handful of beach locations lately. Of course, Big Little Lies was set against the gorgeous Pacific backdrop of Monterey, California, the coastal town that author John Steinbeck once plugged in his novels. Last month, Witherspoon posted a photo of herself watching a stunning beach sunset with her husband, Jim Toth, to mark their sixth wedding anniversary. Each of those beachfront backdrops complemented Witherspoon's sunny persona and made her smile seem even brighter. We'll be sure to let you know if she hops online again for another fun chat session, perhaps with her Big Little Lies colleagues.
Your Daily Blend of Entertainment News
Your Daily Blend of Entertainment News
Thank you for signing up to CinemaBlend. You will receive a verification email shortly.
There was a problem. Please refresh the page and try again.