Why Debra Messing Isn't Happy With Megyn Kelly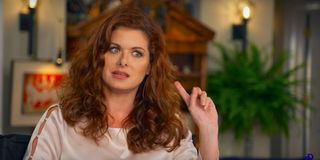 The reboot of Will & Grace is nearly upon us. The actors have been on a press tour to keep fans excited, but a visit to Megyn Kelly's new talk show left some folks scratching their head when the host made controversial jokes. One of the Will & Grace cast members was among the people expressing confusion on social media. Emmy Award-winner Debra Messing, who plays Grace Adler, hopped online after the interview to explain she had not known she had to do Kelly's show, and she found the host's jokes frustrating. Messing wrote,
Debra Messing explained her disappointment when a fan asked her on Instagram why she and the Will & Grace family went on Megyn Kelly's show in the first place. It seems the interview would have been innocuous enough had Kelly not brought out a superfan of Will & Grace and asked him,
Moments later, Megyn Kelly awarded the superfan a trip to Los Angeles to watch a taping of Will & Grace. Then Kelly tapped him on the back and said,
The comments divided viewers. Some people wondered if Megyn Kelly was trying to infuse her joke with the judgment that gay people choose a sexual orientation. Reports say people felt concerns because of Kelly's previous history with negative remarks about the LGBT community. For example, Kelly often invited the head of an anti-gay lobbying organization onto her past Fox News show, and she sometimes made statements that seemed supportive of his rhetoric.
Thus, Debra Messing and many viewers shook their head when Megyn Kelly made the comments on her new show, which Kelly had previously said would not be political. At the same time, other viewers saw the comments as jokes, and they noted that Kelly warmly talked for a while about the "huge impact" Will & Grace had on society. People close to the Will & Grace team said it was evident Kelly was kidding and not trying to insinuate gay people choose to be gay or "become gay." Even the superfan Kelly brought on stage seemed to take the jokes in stride. In fact, Emmy Award-winner Sean Hayes, who plays Jack McFarland, indicated the interview on Kelly's show was an enjoyable experience. He tweeted,
Still, it makes sense Debra Messing felt shocked. As a gay icon and recipient of the GLAAD Excellence in Media Award, Messing knows a thing or two about competent depictions of the LGBT community on TV. We'll have to stay tuned to see if Megyn Kelly explains the jokes or, perhaps more importantly, the perspective from which she made them.
Your Daily Blend of Entertainment News
Your Daily Blend of Entertainment News
Thank you for signing up to CinemaBlend. You will receive a verification email shortly.
There was a problem. Please refresh the page and try again.