The Funny Reason Kim Kardashian Went Blonde Again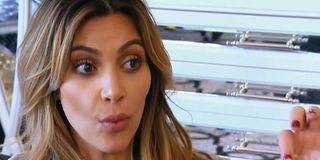 Kim Kardashian has revealed the effort it takes to turn her dark locks blonde is worth it if it results in some love in the boudoir from her rapper husband, Kanye West. The 36-year-old Keeping Up with the Kardashians personality hopped on social and posted a recent picture of herself with blonde hair, and she added a caption to count herself among people taking the NSFW "For the D challenge" on social media. The "challenge" asks what women would do for sex. Take a look:
Rapper GameOva Reedy's song "For That D" inspired the "For the D challenge" on social. In addition to Kim Kardashian, celebrities like Cardi B, Issa Rae, and Tyga have hopped online to share what it is they have done for sex. (In Tyga's case, it was a "For the P challenge.") After Kim Kardashian uploaded her picture, Khloe Kardashian took notice of Mrs. Kanye West's Instagram honesty. The Revenge Body celebrity commented on her elder sister's photo and wrote,
The adage gentlemen prefer blondes is not always true, but Kim Kardashian previously mentioned it is accurate in her husband's case. Apparently, Kanye West was a big fan of his wife's hair when she dyed it blonde in the past. In fact, Kardashian's makeup artist, Joyce Bonelli, once told Allure West was the one who urged his wife to take the platinum plunge a few years ago. Bonelli said,
When Kim Kardashian's hairstylist, Chris Appleton, brought her long brunette hair to a gorgeous platinum blonde in 2015, Kardashian suggested her husband was over the moon. Then Kardashian went back to blonde in September of this year. She described the lengthy experience on her app and said the first time she tried the snowy hair color she did not give the process enough time. So, in September, she sat in her stylist's chair twice--once for 12 hours to get the blonde color, and a second time for 5 hours to make the look just right. She said,
Therefore, ever the supportive partner, Kim Kardashian's post teased the extreme effort it took to color her hair blonde was not a problem because it made her man happy and got her some private adult time with him. Ah, the things we do for love.
Your Daily Blend of Entertainment News
Your Daily Blend of Entertainment News
Thank you for signing up to CinemaBlend. You will receive a verification email shortly.
There was a problem. Please refresh the page and try again.