Why Mila Kunis And Ashton Kutcher Don't Buy Their Kids Christmas Gifts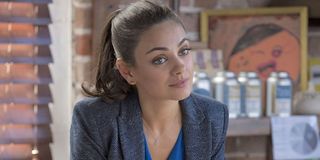 You might think Mila Kunis and Ashton Kutcher's two kids--three-year-old daughter, Wyatt, and one-year-old son, Dimitri--are lucky to have movie star parents who can shower them with gifts. But it turns out the little ones should not get their hopes up when it comes to gifts this Christmas. In a recent interview, Kunis opened up about the excessive number of presents her daughter received from family and friends during the holidays last year. Apparently, it was such an overload that she had to ask people not to buy gifts for the youngsters this year. Kunis explained,
The kids get no gifts from Mom and Dad on Christmas? It sounds harsh, but maybe it isn't after all. In the ET interview, Mila Kunis talked about growing up Jewish in Russia, where the celebration of Christmas was different from what she found it to be in the United States. Nowadays, Kunis celebrates Christmas as an inclusive holiday along with her husband's family, but she tries to monitor the abundance of gifts her kids get so that they grow up with gratitude.
In fact, Mila Kunis and Ashton Kutcher are not entirely against their children receiving gifts. Instead, they just know Dimitri is too young to understand he is receiving a gift, and Wyatt is at an age when they need to help her develop a sense of appreciation rather than entitlement. Too often an extreme focus on materialism takes over at Christmas, which is ironic considering the holiday celebrates the birth of a dude who had a few opinions on avoiding excess and indulgence. Kunis said,
In this way, the 34-year-old star of the upcoming A Bad Moms Christmas is anything but a bad mom. When kids are too young to remember gifts, it makes sense not to give too many presents. Giving one meaningful present is a lot better for the kid but also the parents. Having too many things lying around the house is a frustration for many new parents. Besides, for a wealthy power couple like Mila Kunis and Ashton Kutcher, it seems safe to assume their home is stocked with fun stuff for the children.
A good rule of thumb is that gifts for a baby are more for the parents. Gifts for toddlers can be just about anything as long as the presentation is neat. Books are great. Even Mila Kunis and Ashton Kutcher's idea of asking people to make charitable donations in their kids' names is a good one. I once received a card that said a gift had been made in my name to help an organization that saved manatees. It was educational and made me feel helpful. Children are full of curiosity. They will enjoy anything they get, as long as it is thoughtful, so Kunis and Kutcher have the right idea.
Your Daily Blend of Entertainment News