The Lovely Way Dwayne Johnson Surprised A Terminally Ill Grandmother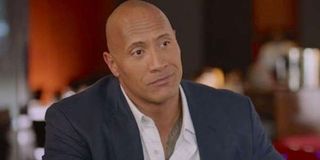 Dwayne Johnson has again shown what a wonderful guy he is. The 45-year-old movie star recently posted a kind recorded message on social after receiving an email from a fan who wrote about his 76-year-old grandmother in hospice. Judy Rosenberg, the sender's grandmother, keeps a cardboard cutout of Johnson by her bedside to inspire her to fight pancreatic cancer. The story moved Johnson, so he shared heartening words for Rosenberg, who has five kids and 17 grandkids. Take a look:
Wow, Dwayne Johnson is one of the busiest men in Hollywood, but he took time out of his hectic schedule to send loving words to the grandmother of a complete stranger. Did you notice the words on Johnson's shirt? ("Believe. Prove people wrong.") What a great shirt for the Jumanji: Welcome to the Jungle star to wear in this particular message.
While reading the email, Dwayne Johnson sent air kisses to Judy Rosenberg and called her sexy per her request. One of the best parts of the recording happened when the actor read a line in the letter that said Rosenberg had a bit of a potty mouth, an aspect of the email Johnson loved. He wrapped up with touching words and said,
Dwayne Johnson shared the recording with his 94.6 million followers on Instagram. From the sounds of it, Johnson believes in the power of collective prayers and positive vibes, and with this one message, he scored millions of each for the Rosenbergs. Hopefully, the gesture brings some joy to Judy Rosenberg and her family in this difficult time. It seems Rosenberg, who was married for 57 years, picked the right celebrity crush.
The video received supportive words from Dwayne Johnson's followers. Many comments went to Johnson himself. For instance, one fan wrote that seeing The Rock pay forward the love made it clear that the actor was the real deal. Some comments read, "Johnson for President in 2020." Then, as Johnson hoped, many commenters directed their thoughts and prayers to Judy Rosenberg.
Dwayne Johnson has used social media to encourage other fans in the past. For example, he posted a similar recorded message on social media in September with a young boy who saved the life of his two-year-old brother when the child fell into a backyard pool. Additionally, Johnson hopped on social to raise awareness of the need for help in the wake of the series of devastating hurricanes this year. Then he contributed personal funds to relief efforts to put his money where his mouth is. Apparently, what The Rock is cooking is a world with more kindness.
Your Daily Blend of Entertainment News
Your Daily Blend of Entertainment News
Thank you for signing up to CinemaBlend. You will receive a verification email shortly.
There was a problem. Please refresh the page and try again.