Buffy The Vampire Slayer's Nicholas Brendon Arrested For Pulling Girlfriend By The Hair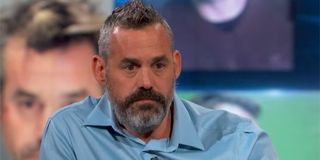 Nicholas Brendon, who played popular character Xander Harris on the Buffy the Vampire Slayer television show, is facing significant legal trouble after he allegedly assaulted a woman with whom he had a history. The alleged altercation occurred between Brendon and his companion at the Saguaro Hotel in Palm Springs, California, on October 11. Law enforcement detained him in jail through October 12 when he--or someone on his behalf--paid the $50,000 bail.
Afterward, Palm Springs Police Sergeant William Hutchinson gave KESQ details about the event. Apparently, Nicholas Brendon and the woman spent time at the hotel's bar before retreating to their room where a drunken, verbal dispute fell into a brawl. During the fight, Brendon pulled her arm to make her sit. Sergeant Hutchinson explained that when the woman would not do so, Brendon grabbed her by her hair and pulled her down. His mugshot later made the rounds online, as you can see here:
Sergeant Hutchinson said the woman whom Nicholas Brendon allegedly assaulted previously took out protective orders against him in both New York and Florida. These documents defined their interactions so that the actor could spend time with her but never harass or injure her. Thus, when an employee of the Saguaro Hotel made an emergency phone call to the police to report the quarrel, the authorities arrested Brendon on a felony domestic violence charge and a charge that he violated court orders. The next step in the process for Brendon will be a court date on November 28, according to the jail records.
Nicholas Brendon's legal problems did not begin with this incident nor the woman's decision to take protective legal measures against him. In 2010, police tasered Brendon when he drunkenly threatened them during a confrontation. In that incident, the police arrested him for vandalism. Then police in Idaho arrested him for the misdemeanor Malicious Injury To Property and Resisting or Obstructing Officers in 2014 when an incident between him and the staff at a hotel resulted in the breaking of a dish. Then in 2015, Nicholas Brendon got arrested for a similar altercation with hotel staff at a hotel in Florida, and during the same year, he was back in jail for assaulting a woman in a hotel in New York. Brendon spoke at length with Dr. Phil that year, and he mentioned his issues with alcohol, substance abuse, and anger, saying,
Stay tuned for details. Hopefully, Nicholas Brendon can discover ways to regulate his emotions while working on his issues with alcohol. If you have questions or concerns about domestic violence, please call the National Domestic Violence Hotline at 1-800-799-7233, and for the deaf or hard of hearing, the number is 1-800-787-3224.
Your Daily Blend of Entertainment News
Your Daily Blend of Entertainment News
Thank you for signing up to CinemaBlend. You will receive a verification email shortly.
There was a problem. Please refresh the page and try again.