Buffy The Vampire Slayer Star Nicholas Brendon Arrested... Again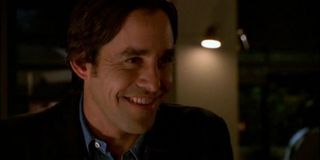 Everyone's favorite comic relief in the fight against the supernatural just got arrested… yet again, in what marks his third arrest in five months. Nicholas Brendon, otherwise known as the lovable Xander Harris and member of the Buffy the Vampire Slayer Scooby gang, has been in hot water a number of instances since the cult-classic show let out back in 2003. This time around, the 43-year-old actor was arrested in Tallahassee, FL, charged with criminal mischief and damage to property.
It seems like the only headlines we hear of Nicholas Brendon any more are of his latest run-ins with the law. A year after Joss Whedon's Buffy the Vampire Slayer ended, the actor announced at a Buffy convention that he had voluntarily entered rehab for alcoholism. And then in 2010 the arrests started coming in as Brendon started abusing alcohol again. After pleading no contest to the four charges in the 2010 arrest, Brendon received a one-year suspended jail sentence along with 36 months of probation.
Now, Brendon is back in the media for similar charges. It started this past October when the Buffy star was arrested for misdemeanor charges in a hotel lobby while in Idaho for Tree City Comic Con, again last month for suspicion of grand theft as he attended a local comic convention in Fort Lauderdale, and now, this past friday Brendon was arrested and charged for damage to property and criminal mischief while in Tallahassee for another comic book convention. Really what it looks like is that Brendon can not handle the excitement of comic cons.
According to The Daily Mail, the TV star was an absolute mess upon the police arrival with $450 worth of damage. The hotel manager had told them that there was a 'celebrity guest' who had "taken pills and alcohol while he has been at the hotel [and] he was walking around the hotel with blood on him and his clothes torn and wet". Allegedly the once seemingly sane Xander Harris had damaged his hotel room demanding an upgrade because of his TV stardom. But, with his arrests coming in with correlation to comic conventions, it seems that Brendon's stardom is where the problem lies. Sidelined Xander Harris is better than a crazed Xander Harris (just ask the Scoobies).
We hope for his own safety, that this is the third strike that will push Brendon to get some help. When his spokesperson spoke out to TMZ they apologized and confirmed that they are working to improve the situation:
Hopefully the 'situation' can improve just in case a Buffy the Vampire Slayer reunion is in the mix (another movie maybe?).
Your Daily Blend of Entertainment News
Thank you for signing up to CinemaBlend. You will receive a verification email shortly.
There was a problem. Please refresh the page and try again.