Christina Aguilera Once Punched Pink In The Face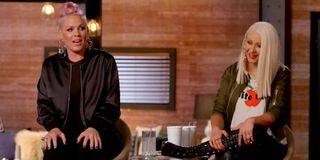 Pink and Christina Aguilera have a long, storied history of ups and downs. The pop stars met in the early years of their careers, and they collaborated on one of the biggest Grammy Award-winning songs of all time, "Lady Marmalade." Regardless, the association was rough behind the scenes. Today things are better between the divas, but according to Pink, the relationship once was such a disaster that Aguilera tried to punch her. Pink explained,
Pink told Watch What Happens Live with Andy Cohen that she and Christina Aguilera were alphas when they were younger. Pink said that she, herself, was used to taking out her frustration in physical ways, while Aguilera was the kind of person who would take out her frustrations in a verbal manner. It was a recipe for disaster when the two big personalities brought their big voices (and big egos) into the studio to create a big song.
The two rose to fame at the same time around 1999, and they begrudgingly collaborated on "Lady Marmalade" for the Moulin Rouge soundtrack. Pink did not say when the throwdown in the club happened, so we can't tell if it was before or after they won their Grammy with Mya and Lil' Kim. However, we can guess that it took place during their wildest days in their early twenties.
Back in the day, Pink used to tell a story of how annoying it was when Christina Aguilera came into the studio with her manager to create "Lady Marmalade." Pink would say that the manager tried to tip every aspect of the song in Aguilera's favor, which irritated Pink to no end. Then when Aguilera received help from music producer Linda Perry on her Stripped album, Pink felt resentment that nearly destroyed her friendship with Perry. Today, Pink says she and Perry are cordial, but there were years when she hated the fact Perry had worked with Aguilera.
But Pink has long since moved on. She told Andy Cohen "women have to learn how to support each other" because it does not come naturally to everyone. Luckily, she and Christina Aguilera figured it out, and in fact, Pink said they made amends on The Voice. This information echoes what Pink previously told reporters after she stopped by The Voice. She told reporters she enjoyed working with Christina Aguilera more than any of the other judges on the show, and she called it "a full circle moment" after 15 years of feuding. Pink told ET the feeling between her and her former industry enemy was "true love," and she even called herself "a fan" of Aguilera's and said the experience was a "refreshing, nice visit."
Both Pink and Christina Aguilera have said in other interviews that their shared experiences as moms helped them overcome their differences. During Pink's talk with Andy Cohen, she confessed that she and Christina Aguilera are on such good terms these days that they collaborated on a new song together. Watch the fun interview here:
It is excellent to hear that Pink and Christina Aguilera have worked out their animosity and left their feud in the past, and it is even more exciting to know they collaborated again. Hopefully, we will get a chance to hear that new song sooner than later.
Your Daily Blend of Entertainment News