Why Pink Regrets Taking A Side In The Taylor Swift And Katy Perry Feud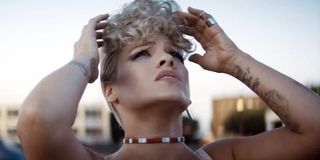 Over the years, the media has pitted Pink against women in entertainment with reported catfights and feuds. Once, it supposedly was Pink versus Britney Spears and Christina Aguilera. Then it apparently was Pink versus Avril Lavigne and Kelly Clarkson. Even Lady Gaga allegedly took a turn in the ring against Pink. Many of the feuds happened because Pink and those artists shared similar looks and sounds, and in the end, it turned out they mostly all got along in real life. Today, Pink tries hard not to let the press to dictate her narrative. But not long ago, the 38-year-old pop music icon ended up taking sides in the infamous feud between Katy Perry and Taylor Swift. Now she regrets adding to that argument, primarily because it was irrelevant to her life as an artist, mom, and wife. She said,
However, Pink did get caught up in the Katy Perry and Taylor Swift feud. She told The LA Times she had stopped by a radio station to promote her work, and during a game, the DJs asked her whether she would side with Katy Perry or Taylor Swift in their ongoing drama. Pink nearly skipped that question, but she let it get the best of her. She said,
So, Pink was not blameless. Hindsight is 20/20. From her comments, we're assuming Pink now tells promoters she does not contribute to the narratives of feuds among people in entertainment. After all, she has been through enough supposed fights to know that you cannot believe everything you hear.
For example, Pink's feud with Christina Aguilera was not of Joan Crawford and Betty Davis proportions, but it was significant. Pink bashed Aguilera's diva behavior during the creation of "Lady Marmalade." Then Christina Aguilera worked with longtime Pink hit-maker Linda Perry, and the collaborations injured Pink's professional relationship with the producer. Later, Pink revealed it was supposed to be her, not Christina Aguilera, onstage with Madonna and Britney Spears for the 2004 MTV VMAs. The list of "issues" continued, but in the end, Christina Aguilera and Pink eventually spoke fondly about each other, especially after they both became moms.
In fact, Pink's supportive approach toward women in entertainment has been rock solid for years. For example, after Lady Gaga's 2017 Super Bowl Halftime Show, Pink defended Mother Monster when critics chastised her acrobatics performance. Thus, it is great to see Pink speaking out about her regrets in this particular feud--a feud that genuinely had nothing to do with her and contributed to a Hollywood narrative that she, herself, does not accept in her own life. This shift toward humility and friendly support looks good on Pink (and Hollywood in general).
Your Daily Blend of Entertainment News