Check Out The Adorable Hippo Photobombing A Marriage Proposal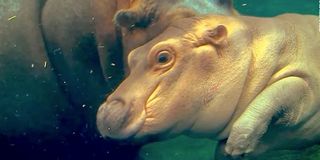 A couple in Cincinnati, Ohio, recently had a unique celebrity guest pop up at the exact moment of their engagement at the Cincinnati Zoo and Botanical Garden. Nick Kelble decided to ask Hayley Roll for her hand in marriage while they were strolling through the hippopotamus center that houses the zoo's famous baby hippopotamus, Fiona. Kelble and Roll waited in line to see Fiona, and when they reached the front of the crowd, the 10-month-old hippo herself came over to the glass to say hello and watch the romantic interaction unfold. Take a look at Roll's picture gallery:
Hayley Roll, who works as a radiology specialist at Cincinnati Children's Hospital, told Daily Buzz she and Nick Kelble paid a visit to the Cincinnati Zoo to celebrate their one-year anniversary. Roll said she already felt excited after waiting in line to see Fiona in the window of the hippopotamus cove. She handed her cell phone to someone nearby and asked for some snapshots. Upon turning around, Roll was delighted to see Kelble, who studies at the University of Cincinnati, kneeling and ready to pop the question.
The timing was perfect. Fiona was peaking up through the water at the exact moment, and she ended up a special guest of honor in Nick Kelble and Hayley Roll's memorable moment. In fact, Roll said none of the staff at the zoo could not have known the proposal was going to happen, so the entire moment occurred by chance and Fiona's curiosity was spontaneous.
Back in January, when the Cincinnati Zoo welcomed Fiona, the delivery marked the first birth of a Nile hippopotamus at the zoo in 75 years. Fiona's mother gave birth six weeks earlier than expected, and the zoo's staff had to race to save Fiona's life and nurse her to health. Baby hippos born after an average gestation period ordinarily weigh between 50 to 110 pounds, so says the zoo. Fiona's case was much different. She weighed but 29 pounds at the time of her premature birth. The zoo staff said the feat made Fiona the smallest hippopotamus on record ever to survive.
Thanks to the intervention of doctors, who bottle-fed Fiona by hand for weeks, the young hippopotamus now is happy and healthy, but she is still a tiny lady compared to most of her hippo friends. The zoo says Fiona now weighs 550 pounds, and she is five-feet long and nearly three-feet tall. However, adult female hippos commonly weigh somewhere between 1,400 and 5,000 pounds. Thus, Fiona still has some growing to do.
Nevertheless, the Cincinnati Zoo indicates Fiona is a happy hippo with a big, bright personality. We can only imagine what she must have thought about the strange human mating ritual that took place in front of her when Nick Kelble got on one knee and asked Hayley Roll to marry him.
Your Daily Blend of Entertainment News