John Stamos Proposed At Disneyland And It Was Adorable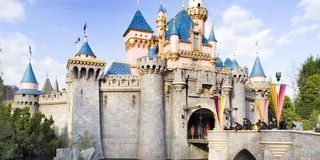 Sorry, ladies. Full House actor John Stamos is off the market. The 54-year-old actor proposed to his actress girlfriend, Caitlin McHugh, with an adorable proposal at Disneyland's California Adventure, and McHugh said yes. Apparently, the moment included a film review of romantic scenes from Disney and Pixar movies, and it ended in a shot of Sebastian from The Little Mermaid holding a sign that read, "Ask the girl!" McHugh later posted a social media photo of the proposal. Take a look:
What a romantic proposal! Sebastian's sign is a play on "Kiss The Girl" from the 1989 animated feature film that made the little red crab famous. It sounds like the perfect beginning to John Stamos and Caitlin McHugh's engagement. After all, Stamos previously talked about his and Caitlin McHugh's mutual love for Disney. In fact, he previously told reporters a story about how McHugh loves the song "Disney Girls" by the Beach Boys, and one day when he was performing, he called her on FaceTime to play the song for her. Because Disney plays such big role in their relationship, Stamos proposal must have been magical in a setting like this:
According to CNN, John Stamos took Caitlin McHugh to the 21 Royal private residences after he proposed, and there they had a dinner party to celebrate the happy news with family and friends. Later, Stamos himself hopped on Instagram to post a dreamy drawing of a couple who resembled him and McHugh. The couple in the picture stood in front of the Disney castle while fireworks popped in the background. The day was full of fireworks in real life for Stamos and McHugh, so it was a perfect image. In the caption, Stamos wrote,
John Stamos and Caitlin McHugh have been dating for nearly two years. Stamos revealed their relationship during an interview on The View in March 2016. Before getting engaged, the artists took a different kind of big step in their relationship when they filmed a movie called Ingenueish. Stamos directed the movie, which starred McHugh in a lead role.
Although John Stamos and Caitlin McHugh both have made recent public expressions of love on social media, it turns out the lovebirds prefer to keep their relationship private. In January, McHugh told reporters she and Stamos prefer not to put their relationship on display because they do not want people to share unsolicited opinions about their romance and how it should look. They had noticed other relationships fall apart from being too public, so they did not want theirs to succumb to the same problem.
Accordingly, the pair kept a moderately low profile during their courtship. However, they did upload social media photos with each other once in a while, and the paparazzi also spotted them out and about on cute dates from time to time. For example, photographers snapped photos of them sharing some ice cream not long after John Stamos revealed his relationship.
John Stamos was married to actress Rebecca Romijn from 1998 to 2005. In recent years, the Scream Queens actor has made a lot of incredible life changes like getting sober. Now it sounds like he is in a great place and happy in love. Congratulations, John and Caitlin!
Photo courtesy of Disney.
Your Daily Blend of Entertainment News