Country Singer Chris Young Opens Up About The Night Of The Vegas Shooting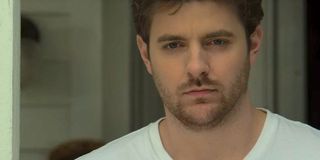 Country music artist Chris Young has opened up about his thoughts on the harrowing events that transpired in Las Vegas during the Route 91 Harvest Festival on October 1. The 33-year-old musician had finished his set, and he was settling in to enjoy Jason Aldean's songs when a shooter positioned on the thirty-second floor of the Mandalay Bay hotel opened fire on the crowd. Young watched in horror as the mass shooting ensued over the next 11 minutes. The gunfire killed 59 people and left more than 500 individuals with critical injuries, and the tragedy changed Young's life forever. Young revealed,
Chris Young shared his account with People, and he revealed feeling unsure what to do in the days after the shooting. Ultimately, the "I'm Comin' Over" singer spoke with family and friends and somehow found the strength to get back on stage for a show on October 4. Young indicated that pushing through the pain to give a great performance ended up being "very therapeutic" for him. Furthermore, he announced a world tour with Kane Brown and LANCO, and the decision showed he was standing firm in the face of fear.
Sadly, the Las Vegas shooting was but one tragedy to affect Chris Young this year. He also told reporters his house in Texas had succumbed to the devastation of Hurricane Harvey. Still, despite the loss of his own home in Texas, Young pushed onward and set up a crowdfunding campaign that has raised nearly $400,000 to provide relief for hurricane victims and their families.
As the days and weeks pass, more and more people are opening up about their accounts of the horrible events that transpired in Las Vegas. For example, Jason Aldean was one of the first people to speak out, and he wrote on social media that it is time for people "to come together and stop the hate." Similarly, Brittany Kerr Aldean, Jason Aldean's wife, revealed that she has been "in a daze" since the shooting, and like Chris Young, she said it was impossible to "put into words the pain and heartache" she felt for the victims.
At the same time, most everyone who has commented on the incident has expressed the profound ways it challenged their perspectives on gratitude. Chris Young said he feels fortunate to have a platform with his music career, and his biggest wish is that his music can bring people comfort in these troubling times. Disasters like hurricanes are horrible. Tragedies like shootings are terrifying. But through it all, it is essential for people to use their gifts to bring one another comfort, and from the sounds of it, that is what Young wants to do.
Your Daily Blend of Entertainment News
Thank you for signing up to CinemaBlend. You will receive a verification email shortly.
There was a problem. Please refresh the page and try again.