Jason Aldean's Wife Has Shared Her Feelings After The Las Vegas Shooting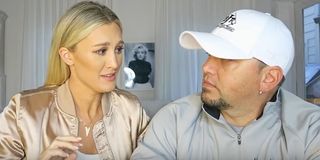 Country music singer Jason Aldean was among the acts at the Route 91 Harvest Music Festival in Las Vegas when a gunman fired bullets into the crowd, killed 59 individuals and wounded more than 500 people. Now Jason Aldean's pregnant second wife, Brittany Kerr Aldean, has shared a statement about the life-changing experience. She included words of gratitude and grief, first thanking the people who saved lives and then revealing her sorrow. Kerr Aldean wrote,
Brittany Kerr Aldean was at the festival, but she and Jason Aldean were not together during the shooting. She was with a group of friends, and they were forced to drop behind equipment on the stage for protection. However, her "first instinct was to run to" her husband, and Jason Aldean later told her he had wanted to do the same thing. But the pair hid in separate locations to take cover during the chaos.
In hiding, Brittany Kerr Aldean feared not only for herself and her husband but also for her unborn child. The 29-year-old former Charlotte Bobcats cheerleader and American Idol contestant told her Instagram followers,
Brittany Kerr Aldean expressed her love to people as she ran for cover, not knowing if she would ever see anyone again. She waited in confusion and shock, fearing there were multiple shooters. Kerr Aldean added,
Previously, Brittany Kerr Aldean shared a "Pray for Vegas" meme with her social media followers but kept the caption brief. Her husband, on the other hand, spoke out in detail within a few days. In a social media post, Jason Aldean expressed feeling extreme emotions---fear, anger, heartache, and compassion---and declared he could not "understand why a person would want to take the life of another." He urged people to end hate, and he wrote,
The Aldeans had just celebrated a baby shower before the weekend fell into disaster. Thankfully, they safely escaped the shooting. Jason Aldean canceled the three shows following the event out of respect for the victims. Hopefully, being with his wife will help them both heal from the trauma.
Your Daily Blend of Entertainment News
Your Daily Blend of Entertainment News
Thank you for signing up to CinemaBlend. You will receive a verification email shortly.
There was a problem. Please refresh the page and try again.