It Totally Looks Like Justin Bieber And Selena Gomez Are Dating Again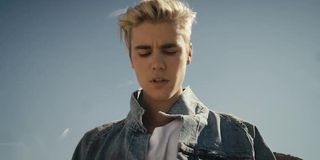 New reports say Selena Gomez is back to dating Justin Bieber. The exes reportedly reunited in October, and things have been moving at a fast pace ever since. From the sounds of it, the timeline worked out without drama, too. Gomez and the Weeknd amicably ended their ten-month relationship several weeks ago, so Gomez was single and ready to mingle when she brought Bieber back into her life last month. Then, during Bieber and Gomez's meetups, the "Sorry" singer managed to convince her to give their past on-and-off romance another chance.
Reports saying Justin Bieber and Selena Gomez are dating expand on the news the two pop musicians spent time together last month after she contacted him to move forward as friends. The previous stories indicated the exes had used the meetups to have tough conversations and make amends for the way their rocky relationship ended the first time. It sounded like Bieber and Gomez intended to keep their meetups friendly without any hint of romance. However, a TMZ source said when Gomez underwent her successful kidney transplant surgery this year, Bieber realized how precious she was to him, so when they reunited in October, he followed his heart and persuaded her to date him one more time.
Although the reports of a rekindled romance sound convincing, some people say Justin Bieber and Selena Gomez decided to get back together because it could help their respective careers. However, most entertainment news outlets disagree because Bieber and Gomez have no mutual projects in the works at this time. Moreover, some reports directly contradict the stories that say love is blossoming again. For example, a source for E! admits that Bieber and Gomez are hanging out a lot but emphasizes they are not calling each other boyfriend and girlfriend, as they realize how quickly everything has moved. If that is true, it could come as happy news for some of Gomez's family, who reportedly dislike Bieber because of stories they heard about his conduct during his and Gomez's hot-and-cold relationship between 2010 and 2015.
Nevertheless, it is evident Justin Bieber and Selena Gomez are at least getting close again and going on "dates," in the strictest sense of the word. They got coffee together. They have been spotted attending church together. They went bike riding with each other, and later that particular day, Gomez went to a hockey game of Bieber's. In fact, on her way into the arena, she was wearing the same style of jersey that her ex later wore on the ice. Of course, these moments add to the previous time when they reunited at Gomez's house for the initial reunion.
So, maybe Justin Bieber and Selena Gomez are not calling themselves a couple just yet, but from the outside, it looks like that is likely what is happening. Hopefully, everything will be smooth sailing this time if they do decide to make it official again.
Your Daily Blend of Entertainment News
Your Daily Blend of Entertainment News
Thank you for signing up to CinemaBlend. You will receive a verification email shortly.
There was a problem. Please refresh the page and try again.