One Spice Girl Apparently Doesn't Want To Join The Reunion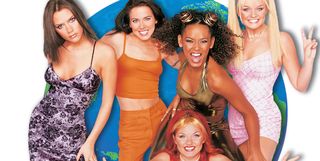 Various entertainment news outlets recently said the Spice Girls planned to make a comeback with a new album and a television special in 2018. Unfortunately, those plans have changed, as Victoria Beckham has announced she will not be part of a reunion- at least not this time. A spokesperson for Beckham explained,
Bummer! The Spice Girls reunion sounded incredible. However, the statement Victoria Beckham's spokesperson gave Daily Mail seems reasonable when you consider how much she has going on in her life. Hopefully, the four other members--Mel B, Emma Bunton, Mel C, and Geri Horner (née Halliwell)---still plan to follow through on the comeback plans.
The last time all five Spice Girls took the stage together was at the closing ceremony of the 2012 Olympics. It must be hard for a music group of five to find ways to reunite after years apart; it always seems at least one Spice Girl pulls away. It started with Geri Horner in the '90s when she quit the group to pursue a solo career. The remaining four continued creating music together, but in my personal opinion, the magic had changed. Then when they reunited, it was a fantastic nostalgia overload.
It's not for nothing when Victoria Beckham cites her family as a top reason why she cannot participate in a reunion. All of the Spice Girls have children, but Victoria Beckham's household is especially lively, as she has the most kids of any of the Spice Girls. She and David Beckham have three sons--18-year-old Brooklyn Beckham, 15-year-old son Romeo Beckham, 12-year-old Cruz Beckham--and one daughter, six-year-old Harper Beckham. Thus, it makes sense that Victoria Beckham wants to concentrate on her family.
Similarly, Victoria Beckham has carved out astronomical success with her eponymous fashion brand, which she began in 2008. In 2011, Telegraph said Beckham's business earned around £60 million. The following year, Beckham's company was the most-talked-about fashion brand on Twitter, according to Vogue. The success has continued. Beckham now has two enormously successful ventures, her main Victoria Beckham line and a secondary line called Victoria, Victoria Beckham. These days, fashion experts point to her company as one that successfully jumped from being a celebrity novelty brand to an influential and respectable fashion house.
So, we get it. Victoria Beckham is busy, busy, busy. At least her reasons stem from respectable family obligations and a tight work schedule rather than, say, upset feelings or conflicts with group members. Still, here's hoping we one day get the full Spice Girls reunion with Baby, Ginger, Scary, Sporty, and Posh.
Your Daily Blend of Entertainment News
Your Daily Blend of Entertainment News
Thank you for signing up to CinemaBlend. You will receive a verification email shortly.
There was a problem. Please refresh the page and try again.