Watch Katy Perry Almost Destroy A Camera With A Perfect Kick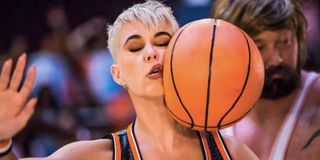 Katy Perry recently visited Salt Lake City, Utah, for a Witness Tour show. While Perry was singing "Roar" at the Vivint Smart Home Arena, she enjoyed kicking huge, 20-inch-wide inflatable beach balls made to look like eyes, part of the theme Perry has been working with for her Witness era. One of the inflatable eyeballs decided to look a little too deeply into the lens of a camera in the audience when Katy Perry kicked it across the stage. Perry roared while the air-filled prop soared--straight into the camera of an audience member, who later shared the video online. Take a look:
The unlucky (or, perhaps, lucky) audience member was a young woman named Jordan Hanks. She tweeted the video and said the collision left her with a black eye. Oops! Katy Perry undoubtedly never meant for Hanks or anyone else to get hurt. But from the sound of it, Hanks is still feeling the love. She tweeted that getting hit in the face by the plastic eyeball the "Chained to the Rhythm" singer kicked was the single best moment of her life. In fact, in the video clip, Hanks brings the camera up at the end and laughs with her friend. It seems safe to say there is no bad blood there.
Since posting about what happened, Jordan Hanks has had a lot of amusing messages come her way from fans of Katy Perry. For example, one Twitter user said sorry for laughing yet added "but u r so lucky," and another Twitter user congratulated Hanks and said she would even pay the new American Idol judge to spit on her face. Another Twitter user equated the smack from the eyeball to "goals," and while we might not go that far, watching it unfold here is pretty funny. In fact, the company that makes the Giant Eyeball Beach Ball also reached out to Hanks and asked to connect via Twitter. It sounds like all eyes are on Hanks right now.
Jordan Hanks talked about her unique concert experience in the caption of the Youtube clip. Apparently, she had not even planned to attend the Katy Perry concert, but a friend sold her last-minute tickets. Hanks said "Roar" was the show's encore, so she grabbed her smartphone just in time to capture photos and video of the giant blowup eyeballs on the stage. Hanks continued,
The concertgoer said people around her kept asking if she was all right. She was, but she could not stop laughing. And now neither can we. Who knew so many people out there dream of being hit in the face with a flying object kicked by Katy Perry?
Your Daily Blend of Entertainment News
Your Daily Blend of Entertainment News
Thank you for signing up to CinemaBlend. You will receive a verification email shortly.
There was a problem. Please refresh the page and try again.