Jay-Z And Beyonce Have Already Trademarked Their Kids' Names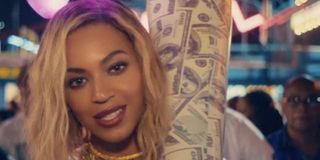 It sounds like Beyonce and Jay-Z have decided to name their newborn twins Rumi Carter and Sir Carter. Of course, we cannot know for certain if that is the case just yet because the Carters are such private people, and they have had the birth of the twins on lockdown all of these months. However, we can glean the information from reports that say Jay-Z recently filed applications to copyright the two names to ensure nobody else in the world could make money with them.
Five years ago, the Carters attempted to trademark the unique name of their first child, Blue Ivy. However, the power couple received a notice that the U.S. Patent and Trademark Office declined their bid because the copyright for Blue Ivy already belonged to Blue Ivy Events, an events planning firm based in Boston.
Regardless, it was a smart move on the part of the Carters, and people believed they would probably try again with the twins. So when the two names showed up in applications around the due date of the twins, people could guess the stars from whom the forms came. Plus, according to The Guardian, the applications came from the same California address as the one filed on behalf of Blue Ivy Carter back in 2012. (Ding! Ding! Ding!)
So, let's talk about the names. Sir seems pretty cut and dried. It is an honorific used as a word tailored-made for a gentleman. Here's hoping he grows up to be so important that he is brought to Buckingham Palace and knighted. Then he will be Sir Sir Carter.
Rumi, on the other hand, was the name of several Japanese women of historical importance, so it's a pretty cool name for a girl. This notion has people wondering if the "Beybies" are a boy and a girl. However, the thirteenth-century Persian mystic and poet whose named Rumi was a man, so there is speculation the twins could both be boys.
Interestingly, among the many important lyrics on Jay-Z's latest album, 4:44, there is a line that some fans see as a nod to the poet Rumi. Jay-Z raps:
So far, there is still no official word from Beyonce or Jay-Z regarding the babies or their names. Technically, the most official word the world received about the birth was when Beyonce's dad stepped outside the privacy zone by tweeting congratulations to his daughter and son-in-law to welcome the twins.
Perhaps if Beyonce and Jay-Z get the names trademarked, those twins could give Kylie Jenner a run for her money as the youngest person on the Forbes list of the world's highest paid celebrities.
Your Daily Blend of Entertainment News
Thank you for signing up to CinemaBlend. You will receive a verification email shortly.
There was a problem. Please refresh the page and try again.