Beyonce And Lady Gaga Still Love Each Other, See Why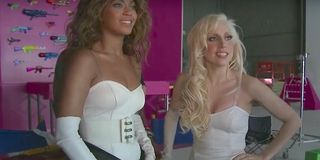 They say friends are like stars because you don't always see them, but they're always there. That adage could not be truer when the friendship is between two global superstars like Beyoncé and Lady Gaga. The women have been friendly for a decade, and apparently they still love each other and keep in touch with kind gestures. In fact, we recently saw new proof of the enduring friendship when Beyoncé sent thoughtful presents to her pal after news broke that Gaga pulled out of concert shows due to chronic pain and fibromyalgia. Gaga hopped online after receiving the gifts and posted:
Lady Gaga has been suffering from chronic pain for years. She recently had to exit her concert schedule because the pain became overwhelming. Beyoncé apparently wanted her friend to feel loved, so she sent the flowers and included a navy blue Ivy Park hoodie to keep Gaga warm. Gaga shared a second Instagram picture of that gift and added a thankful caption. Take a look:
Lady Gaga's Netflix documentary, Five Foot Two, shows aspects of the 31-year-old pop singer's battle with chronic pain and intensifying fibromyalgia. In the documentary, Gaga explains she began getting shooting pain after she injured her hip onstage during the Born This Way tour.
Although Lady Gaga received surgery to repair the damage to her hip, she did not fully recover from the injury. Meanwhile, fibromyalgia began creeping its way into her everyday life. At one point in the documentary, Gaga confesses to her physician that she forces herself to push on because she does not want to let down her fans.
Aside from issues with physical pain, Lady Gaga has also been grappling with the end of her engagement to Taylor Kinney and the death of her Haus of Gaga friend, Sonja Durham, who battled cancer. Beyoncé must have recognized that it was the perfect time to step in as a friend. Gaga has always been there to support Beyoncé, too. For example, Gaga stepped in this year to be the headliner at Coachella to keep audiences happy when Beyoncé had to pull out of the event because she was in the final trimester of her pregnancy with twins. Plus, Gaga has always shared supportive words about Beyoncé over the years and considers her a friend and role model. (Maybe they should remake Beaches after Gaga wraps up A Star Is Born.)
Beyoncé and Lady Gaga collaborated on two big songs with blockbuster music videos back in 2009 and 2010. Gaga joined Beyoncé on "Video Phone" from Queen Bey's I Am ... Sasha Fierce album. Then Beyoncé returned the favor by appearing in "Telephone" from Mother Monster's The Fame Monster album. The iconic music video for the latter of those two collaborations contained a storyline that saw Beyoncé pick up Gaga from prison and drive around getting revenge in the vein of Kill Bill and Thelma and Louise. Since then, Beyoncé and Gaga have paid tribute to each other from time to time during concerts when they sing those songs.
It is heartening to know that Beyoncé still has Lady Gaga's back after all these years. Perhaps one day we'll get to see another collaboration between these two music legends.
Your Daily Blend of Entertainment News